Retrospective 34 rheumatological disease patients with COVID-19 in Saudi Arabia, showing lower risk of severe cases with HCQ use in unadjusted results, without statistical significance. This study is excluded in the after exclusion results of meta analysis: unadjusted results with no group details.
risk of mechanical ventilation,

89.0% lower

, RR 0.11, p = 0.13
, treatment 0 of 13 (0.0%), control 5 of 21 (23.8%), NNT 4.2, relative risk is not 0 because of continuity correction due to zero events (with reciprocal of the contrasting arm).
risk of ICU admission,

64.1% lower

, RR 0.36, p = 0.14
, treatment 2 of 13 (15.4%), control 9 of 21 (42.9%), NNT 3.6.
critical case,

64.1% lower

, RR 0.36, p = 0.14
, treatment 2 of 13 (15.4%), control 9 of 21 (42.9%), NNT 3.6.
Effect extraction follows pre-specified rules prioritizing more serious outcomes. Submit updates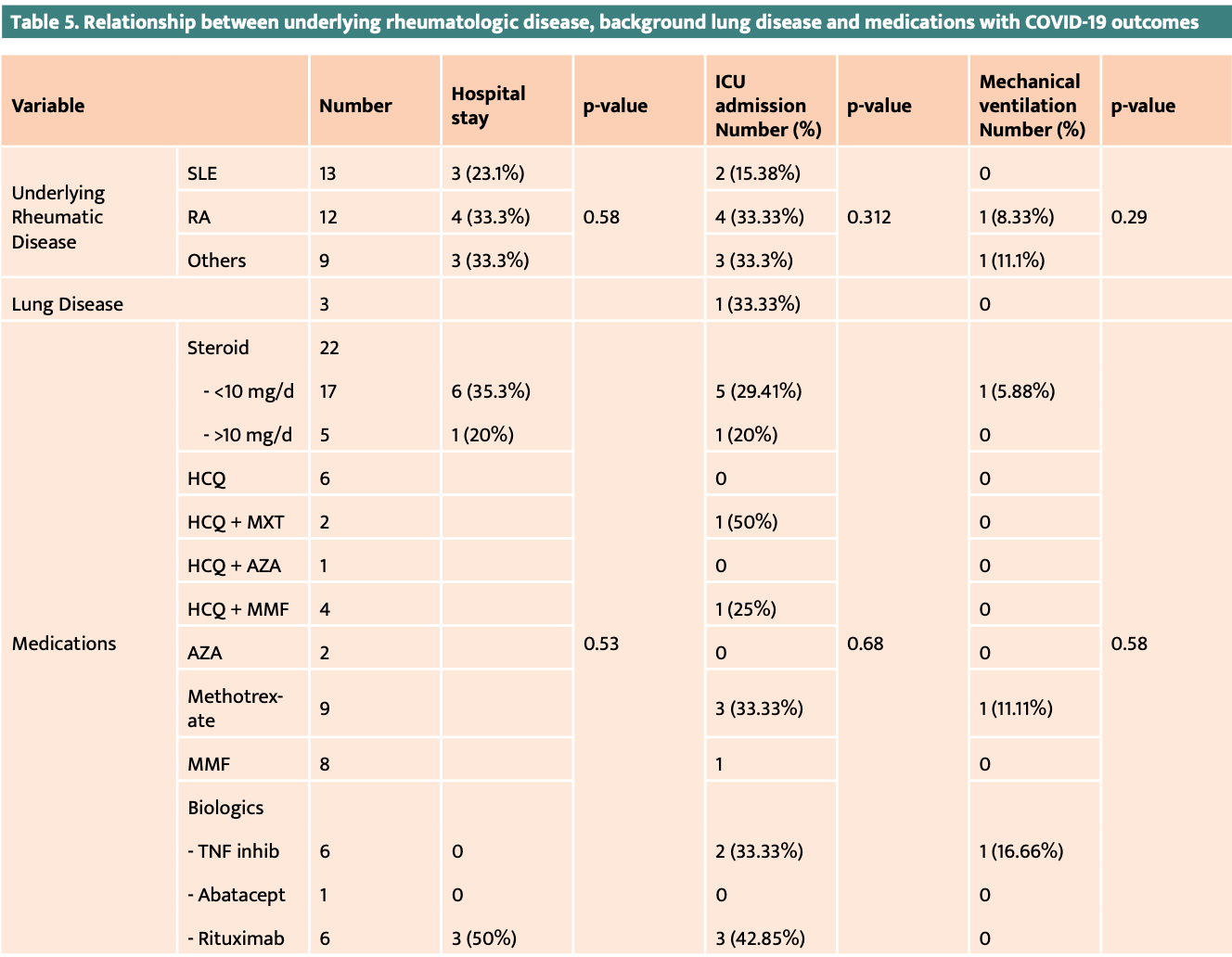 Alqatari et al., 1 Jun 2023, retrospective, Saudi Arabia, peer-reviewed, 15 authors.
COVID-19 in patients with rheumatological diseases in the Eastern Province of Saudi Arabia
doi:10.25122/jml-2023-0037
The severity of the 2019 coronavirus disease (COVID-19) and its effects remain unpredictable. Certain factors, such as obesity, hypertension, and type 2 diabetes mellitus, may increase the severity of the disease. Rheumatology experts suggest that patients with active autoimmune conditions and controlled autoimmune diseases on immunosuppressive therapy may be at higher risk of developing severe COVID-19. In this retrospective observational study, we aimed to examine the patterns of COVID-19 in patients with underlying rheumatological diseases and their association with disease severity and hospital outcomes. A total of 34 patients with underlying rheumatological diseases who tested positive for severe acute respiratory syndrome coronavirus-2 (SARS-CoV-2) by polymerase chain reaction (PCR) were included between March 2020 and April 2021 at King Fahd Hospital of the University. The study population consisted of 76.47% female and 23.53% male patients, with a mean age ranging from 20 to 40 years. Female gender (p=0.0001) and younger age (p=0.004) were associated with milder disease. The most frequent rheumatological disease was systemic lupus erythematosus (SLE) (38.24%), which was associated with a milder infection (p=0.045). Patients treated with mycophenolate mofetil (MMF) had a milder disease course (p=0.0037). Hypertension was significantly associated with severe COVID-19 disease (p=0.037). There was no significant relationship between SLE and the need for ICU admission. Patients on hydroxychloroquine and MMF tended to develop milder disease, and there was no association between the severity of the infection and the treatment with steroids.
Conflict of interest The authors declare no conflict of interest. Ethical approval This study was approved by the ethics committee of the institutional review board (IRB), Imam Abdulrahman Bin Faisal University (IRB-2021-01-049). Consent to participate Written informed consent was obtained from the participants. The data does not contain any identifiable data, and the confidentiality of the included patients is fully maintained. Authorship SAQ is the first author who was in charge of conceptulization, supervision of data collection and manuscript preparation and revision. REAS the corresponding author and contributed in manuscript preparation and revision. AN, MH, RB, RAA, DK, and AAW contributed in manuscript preparation and data collection supervision. AAZ, MAW, SAW, and AAS contributed in manuscript revision and data analysis. FA, HA, and AAQ contributed in literature review searching, data collection and data analysis.
References
Dahan, Segal, Katz, Hellou, Ferritin as a Marker of Severity in COVID-19 Patients: A Fatal Correlation, Isr Med Assoc J
Gianfrancesco, Hyrich, Al-Adely, Carmona, Characteristics associated with hospitalisation for COVID-19 in people with rheumatic disease: data from the COVID-19 Global Rheumatology Alliance physician-reported registry, Ann Rheum Dis