Treating Covid-19 With Hydroxychloroquine (TEACH): A Multicenter, Double-Blind, Randomized Controlled Trial in Hospitalized Patients
Small RCT on very late stage use of HCQ, with 48% on oxygen at baseline. 67 HCQ patients, 61 control. Baseline states were not comparable - 82% more HCQ patients had the highest severity at baseline, there was 32% more male HCQ patients, and 44% more control patients used AZ. The HCQ group also had significantly more patients with cerebrovascular disease, cardiovascular disease (non-hypertension), renal disease (non-dialysis), and a history of organ transplants.
risk of death,

6.0% higher

, RR 1.06, p = 1.00
, treatment 7 of 67 (10.4%), control 6 of 61 (9.8%).
Effect extraction follows pre-specified rules prioritizing more serious outcomes. Submit updates
This study is excluded in the after exclusion results of meta analysis: very late stage, >50% on oxygen/ventilation at baseline.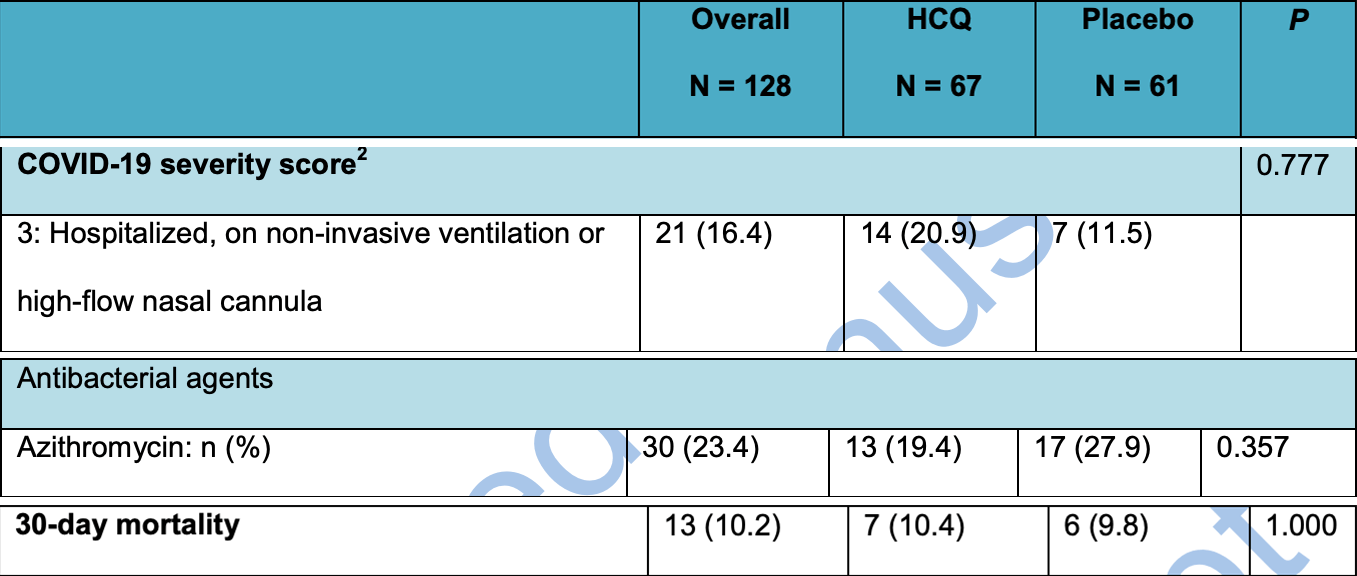 Ulrich et al., 23 Sep 2020, Randomized Controlled Trial, USA, peer-reviewed, baseline oxygen required 63.3%, mean age 66.2, 18 authors, average treatment delay 7.0 days, trial
NCT04369742
(history)
(TEACH).