COVID-19: A Single-Center ICU Experience of the First Wave in the Philippines
et al., Critical Care Research and Practice, 10.1155/2021/7510306
COVID-19: A Single-Center ICU Experience of the First Wave in the Philippines
,
Critical Care Research and Practice, 10.1155/2021/7510306
,
Retrospective ICU patients in the Philippines showing unadjusted HCQ RR 0.82,
p
= 0.64.Although the 18% lower mortality is not statistically significant, it is consistent with the significant 22% lower mortality
[18‑27%]
from meta analysis of the
232 mortality results to date
. This study is excluded in the after exclusion results of meta analysis: substantial unadjusted
confounding by indication
likely; very late stage, ICU patients; unadjusted results with no group details.
risk of death,

18.4% lower

, RR 0.82, p = 0.64
, treatment 17 of 25 (68.0%), control 5 of 6 (83.3%), NNT 6.5, COVID-19 positive patients.
Effect extraction follows pre-specified rules prioritizing more serious outcomes. Submit updates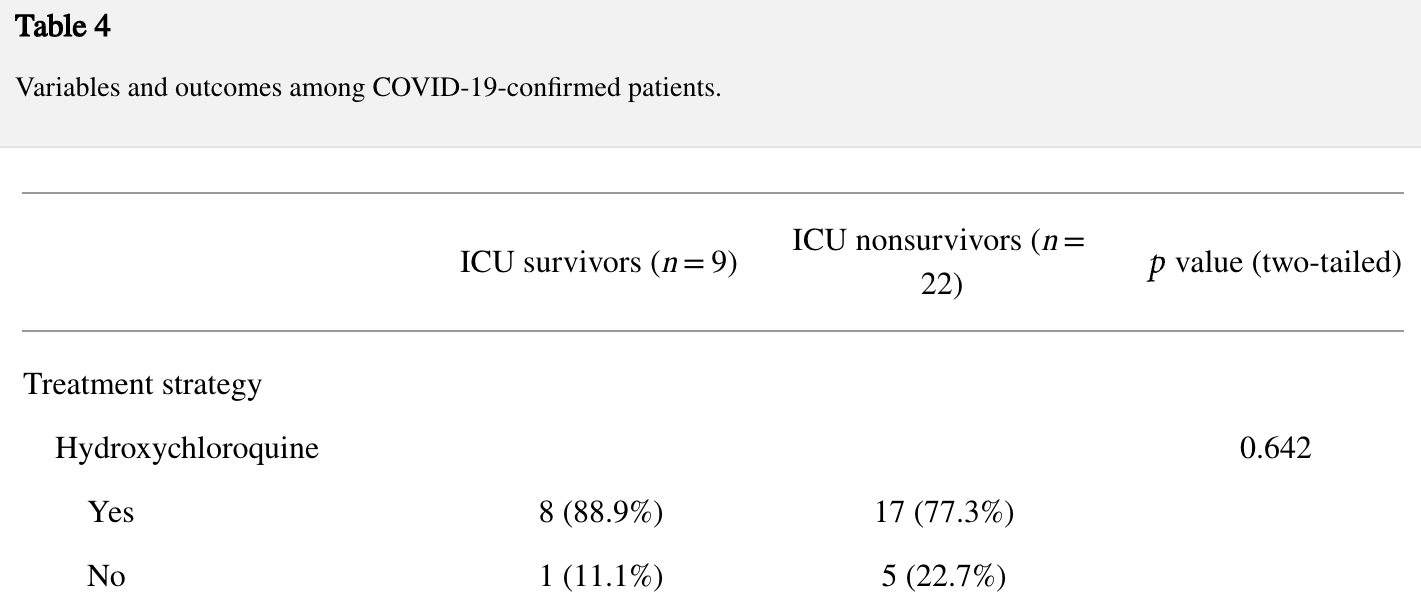 Ubaldo et al., 1 Feb 2021, retrospective, Philippines, peer-reviewed, 3 authors.
Abstract: Hindawi Critical Care Research and Practice Volume 2021, Article ID 7510306, 12 pages https://doi.org/10.1155/2021/7510306 Research Article COVID-19: A Single-Center ICU Experience of the First Wave in the Philippines Onion Gerald V. Ubaldo , Jose Emmanuel M. Palo , and Jude Erric L. Cinco Acute and Critical Care Institute, The Medical City–Ortigas, Pasig City 1605, Philippines Correspondence should be addressed to Onion Gerald V. Ubaldo; onion.ubaldo@gmail.com Received 12 June 2020; Accepted 18 January 2021; Published 1 February 2021 Academic Editor: Robert Boots Copyright © 2021 Onion Gerald V. Ubaldo et al. This is an open access article distributed under the Creative Commons Attribution License, which permits unrestricted use, distribution, and reproduction in any medium, provided the original work is properly cited. On January 30, 2020, the WHO declared the novel coronavirus of 2019 a pandemic, causing millions of cases and thousands of deaths worldwide, exposing the vulnerabilities of healthcare systems around the world with each country having its own experience. These ranged from patient clinical profiles to management recommendations and to government interventions. There is a paucity of published data regarding Philippine experience. This study is a retrospective, descriptive study of ninety-one COVID19 probable patients admitted in the COVID ICU of The Medical City from March 16 to May 7, 2020. We described clinical and demographic characteristics amongst COVID-19-confirmed and -negative patients. Therapeutic interventions including COVID19 investigational drug use and other organ failure strategies were noted and tested for association with ICU survivors and nonsurvivors. We observed that there was no therapeutic intervention that was associated with improved outcomes, with some interventions showing trends favoring the ICU nonsurvivor group. These interventions include, but are not limited to, the use of hydroxychloroquine and tocilizumab, and prone positioning. We also observed that a higher SAPS-3 score was associated with the COVID-19 positive group and the ICU nonsurvivor group. On PubMed search, there seems to be no Philippine-specific literature regarding COVID-19 ICU experience. Further investigations to include more variables are recommended.
Please send us corrections, updates, or comments. Vaccines and treatments are complementary. All practical, effective, and safe means should be used based on risk/benefit analysis. No treatment, vaccine, or intervention is 100% available and effective for all current and future variants. We do not provide medical advice. Before taking any medication, consult a qualified physician who can provide personalized advice and details of risks and benefits based on your medical history and situation.
FLCCC
and
WCH
provide treatment protocols.
Submit