Case control study of healthcare workers in India, showing lower risk of cases with HCQ prophylaxis, without statistical significance.While authors comment negatively, as may be required for publication, and this study alone is not statistically significant, the result is consistent with the positive results in all studies to date. Currently there are
99 HCQ for COVID-19 pre-exposure prophylaxis studies
, showing 30% lower mortality
[12‑44%]
and 29% fewer cases
[21‑37%]
.
risk of case,

37.6% lower

, OR 0.62, p = 0.30
, treatment 10 of 57 (17.5%) cases, 15 of 59 (25.4%) controls, NNT 8.6, case control OR.
Effect extraction follows pre-specified rules prioritizing more serious outcomes. Submit updates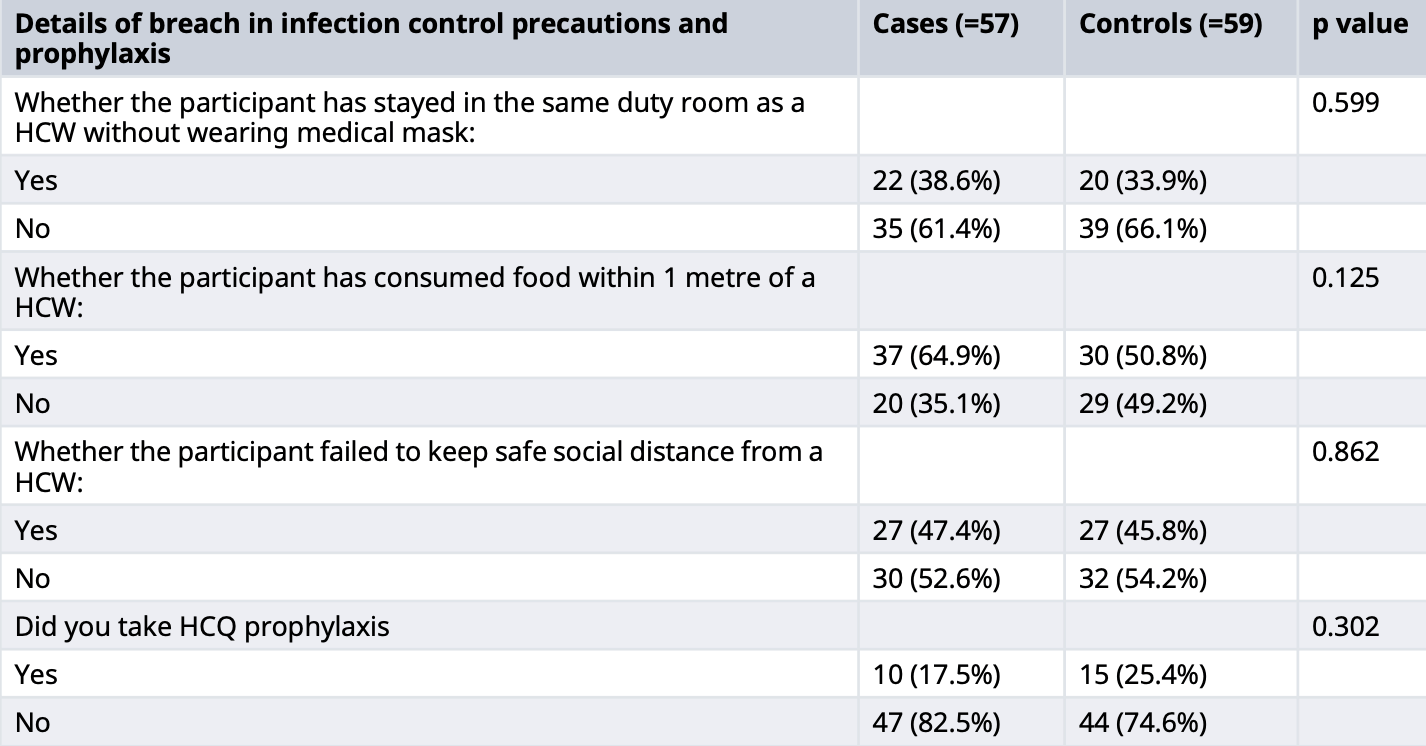 Sukumar et al., 14 Nov 2022, retrospective, India, peer-reviewed, survey, 5 authors, study period July 2020 - September 2020.
Contact: vsagar33@gmail.com.
The Frontline War: A Case-control study of risk factors for COVID-19 among health care workers
F1000Research, doi:10.12688/f1000research.109023.1
Purpose: The global pandemic of COVID-19 has infected several people worldwide. World Health Organization(WHO) has reported that an alarming number of health care workers (HCWs) have been affected and have also succumbed to this disease. Though health infrastructure can be boosted in a short period, the number of HCWs cannot. Hence understanding the risk factors that the HCWs are exposed to and strategically protecting them is of paramount importance. Methods: A case-control retrospective study was carried out on 116 HCWs at a tertiary care hospital treating COVID-19 patients in South India. We attempted to investigate and stratify the specific risk factors for COVID-19 transmission among HCWs. Data was collected regarding their exposure to COVID-19 patients, infection control precautions used, possible breaches in the protocol, and details of Hydroxychloroquine (HCQ) prophylaxis. Results: The demographics were equally distributed among the cases and controls. Exposure to surgical procedures on suspected/positive COVID patients was also found to affect contracting the COVID-19 illness. HCWs who wore face shields instead of eye goggles along with the use of scrubs and hospital gowns were found to have a lesser incidence of COVID-19 illness. Conclusion: This study helped us understand the varied risk factors that health care workers are exposed to while treating COVID-19 patients. It helped us contextualize and strategize our infection control practices to prevent further morbidity and mortality due to COVID-19.
Author contributions CAS and SV conceptualized the study. NB was involved in drafting the protocol and ethical clearance. AV and RN were involved with the initial planning data collection and data analysis. NB also contributed to the data processing and analysis. CAS, SV and NB were involved in preparing the draft and editing the final manuscript.
References
Chou, Dana, Buckley, Epidemiology of and Risk Factors for Coronavirus Infection in Health Care Workers, Ann. Intern. Med
Deo, Doctor population ratio for India-The reality, Indian J. Med. Res
El-Boghdadly, Wong, Owen, Risks to healthcare workers following tracheal intubation of patients with COVID-19: a prospective international multicentre cohort study, Anaesthesia
Jha, Soni, Siddiqui, Prevalence of flu-like symptoms and COVID-19 in healthcare workers from India, J. Assoc. Physicians India
Van Doremalen, Bushmaker, Morris, Aerosol and surface stability of SARS-CoV-2 as compared with SARS-CoV-1, N. Engl. J. Med