Retrospective 547 hospitalized COVID+ patients in Egypt, showing no significant differences with CQ/HCQ treatment in unadjusted analysis. Treatments were applied according to patient conditions, demographics, and comorbidities as per the the official guidelines, indicating strong
confounding by indication
. This study is excluded in meta analysis:
confounding by indication
, unadjusted results and treatment used selectively per official protocol; unadjusted results with no group details.
risk of death,

11.5% lower

, RR 0.88, p = 0.87
, treatment 12 of 136 (8.8%), control 41 of 411 (10.0%), NNT 87, unadjusted.
Effect extraction follows pre-specified rules prioritizing more serious outcomes. Submit updates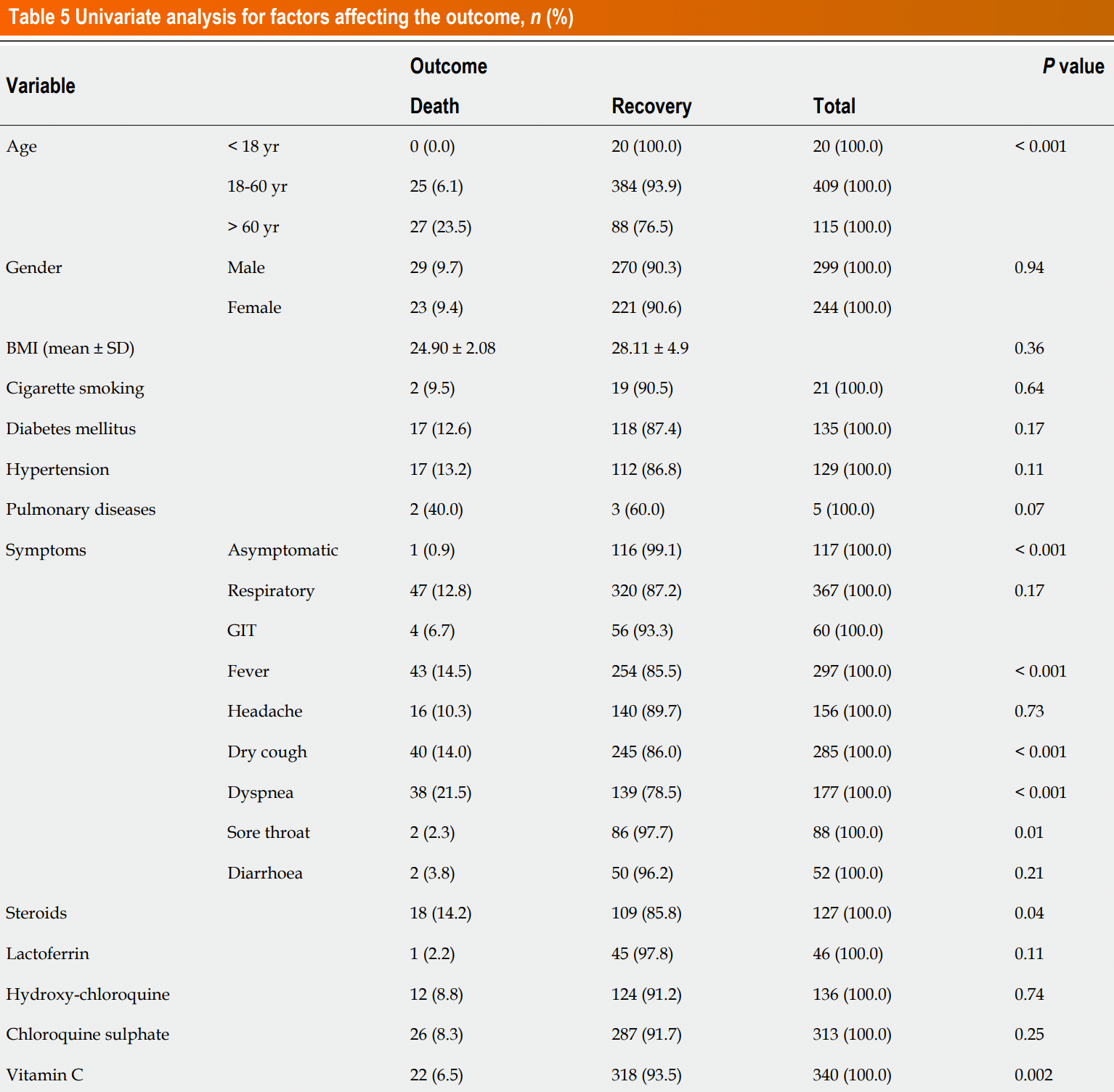 Shousha et al., 28 Oct 2021, retrospective, Egypt, peer-reviewed, 18 authors, study period 15 April, 2020 - 29 July, 2020.
Hepatic and gastrointestinal disturbances in Egyptian patients infected with coronavirus disease 2019: A multicentre cohort study
World Journal of Gastroenterology, doi:10.3748/wjg.v27.i40.6951
Informed consent statement: All study subjects gave written informed consent before study inclusion.
Author contributions: Shousha HI October 28, 2021 Volume 27 Issue 40 Research motivation Comprehensive researches on hepatic and GI derangements in patients with COVID-19 are still lacking, and they are needed for better understanding of the underlying factors, clinical presentations, and disease outcome Research objectives We aimed to study the prevalence and severity of liver and GI derangements in Egyptian patients with COVID-19 infection and their relation to disease outcomes. Research methods This multicentre cohort study was conducted on 547 COVID-19 cases from four quarantine hospitals during the period from April 15, 2020 to July 29, 2020. Clinical, laboratory features, fibrosis-4 (FIB-4) index, COVID-19 severity, and outcomes were recorded. Follow-ups were conducted until discharge or death. Research results Alanine aminotransferase (ALT) and aspartate aminotransferase (AST) were elevated in 26% and 32% of patients while elevations above 3 fold were recorded in 4.91% and 3.73% patients, respectively. Male gender, smoking, hypertension, chronic hepatitis C, and lung involvement were associated with elevated AST or ALT. FIB-4 was significantly higher in patients admitted to the intensive care unit (ICU), those with more severe COVID-19, and non-survivors. The independent variables affecting outcome were supplementary vitamin C intake, lung consolidation, ICU admission, and FIB-4 score > 3.25. GI symptoms were present in 60 (13.98%) patients. They were..
References
Abdalazeem, None
Ahmed Y Abdelaziz, None
Asem, None
Aziz, None
Chan, Biostatistics 103: qualitative data -tests of independence, Singapore Med J
Chan, Biostatistics 202: logistic regression analysis, Singapore Med J
Ehab, Mostafa, None
Elgarem, None
Elsayed, None
Fouad, None
Hassany, None
Ibrahem, None
Kassas, None
Maher, None
Mohammed A Medhat, None
Omran, None
Rateba, None
Rentsch, Kidwai-Khan, Tate, Park, King et al., Covid-19