Retrospective database analysis of 56 mild COVID-19 patients, all treated with vitamin C, vitamin D, and zinc, comparing ivermectin + doxycycline (n=14), AZ (n=13), HCQ (n=14), and SOC (n=15), finding that all groups recover quickly, and there was no significant difference between the groups. This study is excluded in the after exclusion results of meta analysis: no serious outcomes reported and fast recovery in treatment and control groups, there is little room for a treatment to improve results.
relative time to clinical response of wellbeing,

2.4% lower

, relative time 0.98, p = 0.96
, treatment 14, control 15, primary outcome.
Effect extraction follows pre-specified rules prioritizing more serious outcomes. Submit updates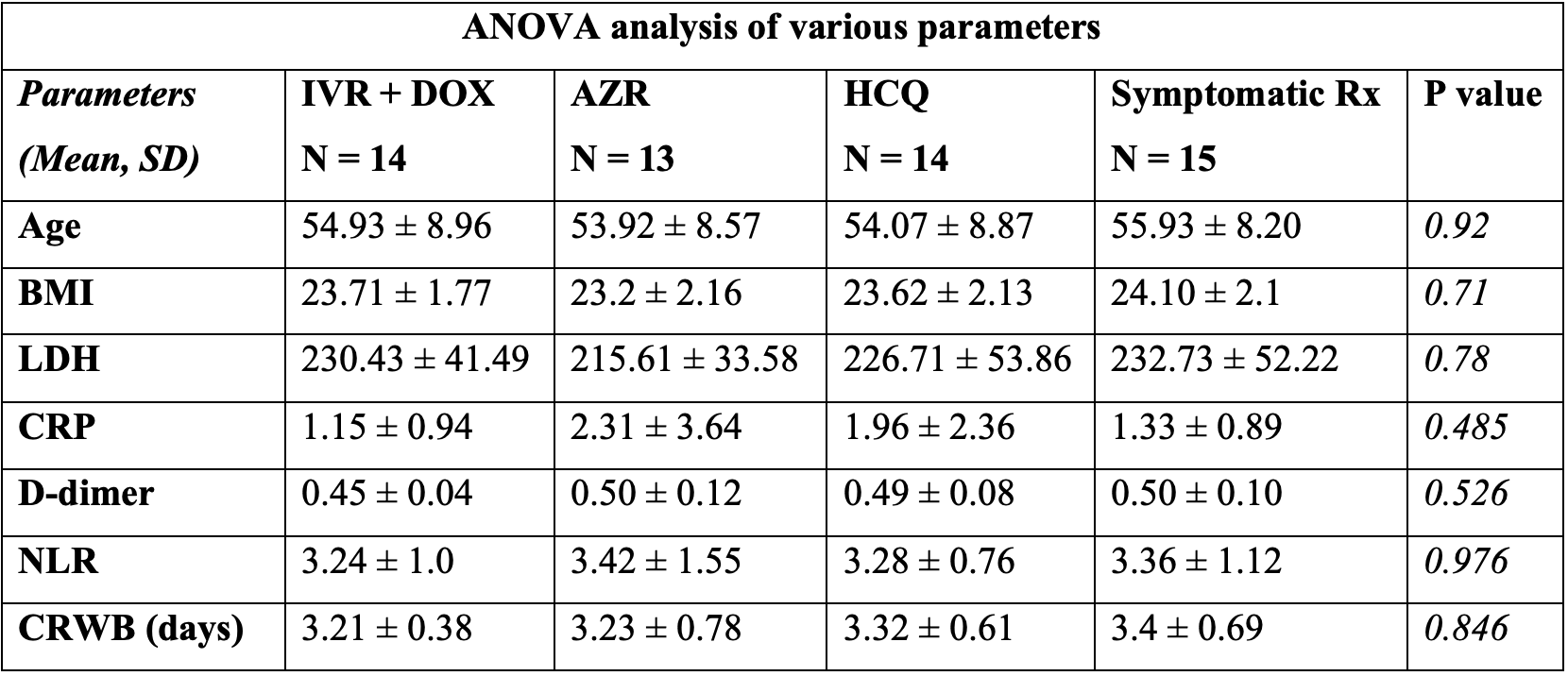 Roy et al., 12 Mar 2021, retrospective, database analysis, India, preprint, 5 authors, dosage not specified.
Outcome of Different Therapeutic Interventions in Mild COVID-19 Patients in a Single OPD Clinic of West Bengal: A Retrospective study
doi:10.1101/2021.03.08.21252883
Introduction: With over 87,273,380 cases being reported and 1,899,440 deaths worldwide as of 9th January 2021, Coronavirus disease 2019 (COVID-19) has become the worst-hit pandemic till date. Every day clinicians are bombarded with many new treatment options that claim to be better than the others.
References
Ahmed, Karim, Ross, A five-day course of ivermectin for the treatment of COVID-19 may reduce the duration of illness, Int J Infect Dis
Ciccullo, Borghetti, Dal Verme, Neutrophil-to-lymphocyte ratio and clinical outcome in COVID-19: a report from the Italian front line, Int J Antimicrob Agents
Healthworld, COVID-19: Health Ministry issues revised home isolation guidelines
Janowitz, Gablenz, Pattinson, Famotidine use and quantitative symptom tracking for COVID-19 in non-hospitalised patients: a case series, Gut
Liu, Cao, Xu, Hydroxychloroquine, a less toxic derivative of chloroquine, is effective in inhibiting SARS-CoV-2 infection in vitro, Cell Discov
Ncid, None
Oldenburg, Doan, Azithromycin for severe COVID-19, Lancet
Roy, Journey So Far With COVID 19 -A Comprehensive Review, European Journal Of Clinical And Experimental Medicine
Roy, Mainakmukhopadhyay, Ventricular arrhythmia risk based on ethnicity in COVID-19 patients on hydroxychloroquine and azithromycin combination: Viewpoint, SN Compr Clin Med
Ruan, Yang, Wang, Jiang, Song, Clinical predictors of mortality due to COVID-19 based on an analysis of data of 150 patients from Wuhan, China, Intensive Care Med
Summary, Therapeutic management of patients with COVID-19
Velavan, Meyer, Mild versus severe COVID-19: Laboratory markers, Int J Infect Dis
Who, None
Wu, Liu, Yang, Analysis of therapeutic targets for SARS-CoV-2 and discovery of potential drugs by computational methods, Acta Pharm Sin B
Zamanian, Pollack, Jr, Gentile, Outpatient inhaled nitric oxide in a patient with vasoreactive idiopathic pulmonary arterial hypertension and COVID-19 infection, Am J Respir Crit Care Med