Effectiveness of remdesivir in patients with COVID-19 under mechanical ventilation in an Italian ICU
Effectiveness of remdesivir in patients with COVID-19 under mechanical ventilation in an Italian ICU
,
Journal of Antimicrobial Chemotherapy, doi:10.1093/jac/dkaa321
,
Retrospective 51 ICU patients under mechanical ventilation, 33 treated with HCQ, showing unadjusted lower mortality with treatment.Although the 16% lower mortality is not statistically significant, it is consistent with the significant 22% lower mortality
[18‑27%]
from meta analysis of the
232 mortality results to date
. This study is excluded in the after exclusion results of meta analysis: unadjusted results with no group details.
risk of death,

16.4% lower

, RR 0.84, p = 0.34
, treatment 23 of 33 (69.7%), control 15 of 18 (83.3%), NNT 7.3.
Effect extraction follows pre-specified rules prioritizing more serious outcomes. Submit updates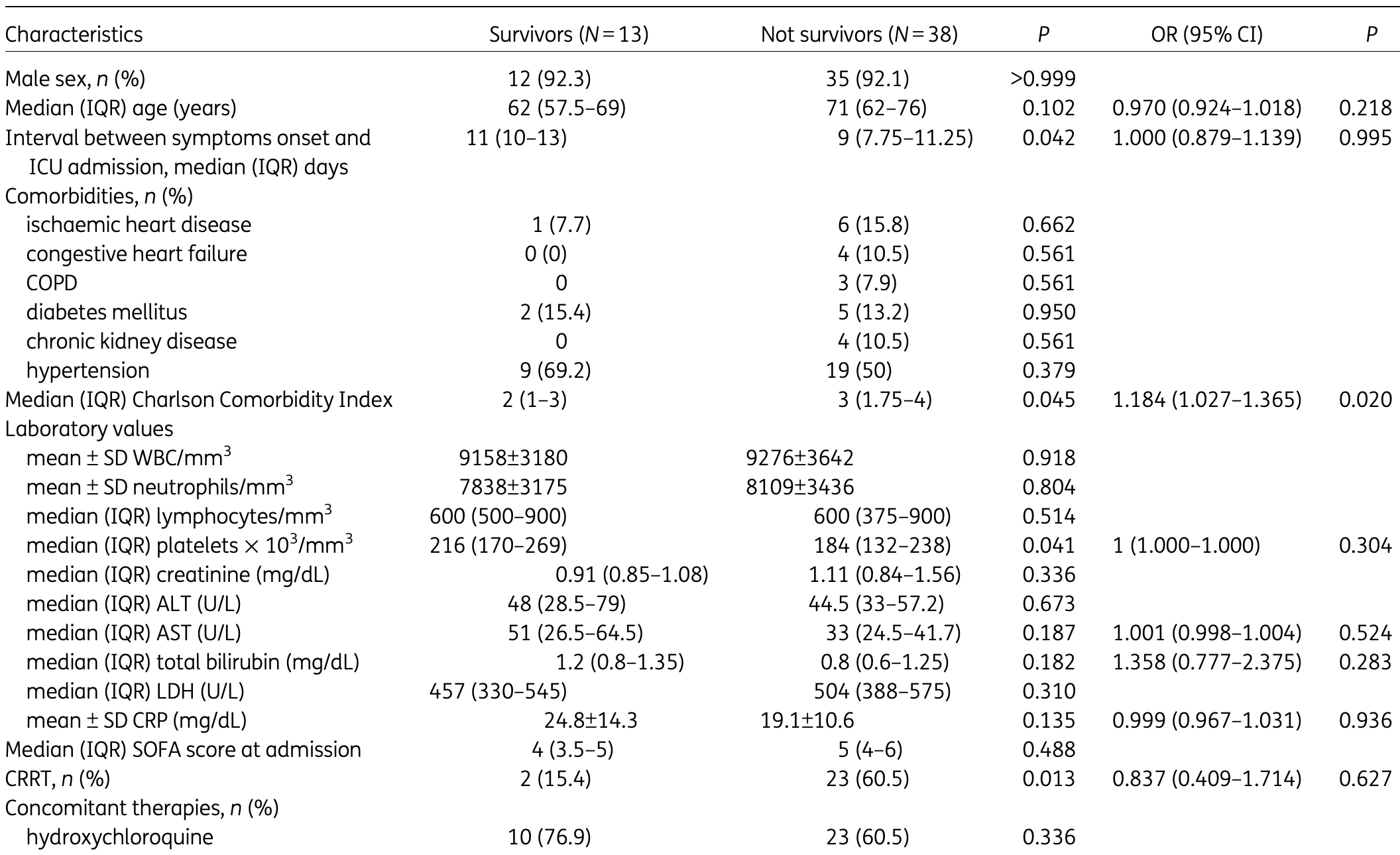 Pasquini et al., 23 Aug 2020, retrospective, Italy, peer-reviewed, 9 authors, average treatment delay 10.0 days.
Abstract: J Antimicrob Chemother 2020; 75: 3359–3365 doi:10.1093/jac/dkaa321 Advance Access publication 23 August 2020 Effectiveness of remdesivir in patients with COVID-19 under mechanical ventilation in an Italian ICU Zeno Pasquini1,2, Roberto Montalti3, Chiara Temperoni1, Benedetta Canovari1, Mauro Mancini4, Michele Tempesta5, Daniela Pimpini5, Nicoletta Zallocco4 and Francesco Barchiesi1,2* 1 *Corresponding author. E-mail: francesco.barchiesi@ospedalimarchenord.it Received 20 May 2020; accepted 24 June 2020 Background: Remdesivir is a prodrug with in vitro activity against severe acute respiratory syndrome coronavirus-2 (SARS-CoV-2). Its clinical efficacy in patients with COVID-19 under mechanical ventilation remains to be evaluated. Methods: This study includes patients under mechanical ventilation with confirmed SARS-CoV-2 infection admitted to the ICU of Pesaro hospital between 29 February and 20 March 2020. During this period, remdesivir was provided on a compassionate use basis. Clinical characteristics and outcome of patients treated with remdesivir were collected retrospectively and compared with those of patients hospitalized in the same time period. Results: A total of 51 patients were considered, of which 25 were treated with remdesivir. The median (IQR) age was 67 (59–75.5) years, 92% were men and symptom onset was 10 (8–12) days before admission to ICU. At baseline, there was no significant difference in demographic characteristics, comorbidities and laboratory values between patients treated and not treated with remdesivir. Median follow-up was 52 (46–57) days. Kaplan–Meier curves showed significantly lower mortality among patients who had been treated with remdesivir (56% versus 92%, P < 0.001). Cox regression analysis showed that the Charlson Comorbidity Index was the only factor that had a significant association with higher mortality (OR 1.184; 95% CI 1.027–1.365; P = 0.020), while the use of remdesivir was associated with better survival (OR 3.506; 95% CI 1.768–6.954; P < 0.001). Conclusions: In this study the mortality rate of patients with COVID-19 under mechanical ventilation is confirmed to be high. The use of remdesivir was associated with a significant beneficial effect on survival.
Please send us corrections, updates, or comments. Vaccines and treatments are complementary. All practical, effective, and safe means should be used based on risk/benefit analysis. No treatment, vaccine, or intervention is 100% available and effective for all current and future variants. We do not provide medical advice. Before taking any medication, consult a qualified physician who can provide personalized advice and details of risks and benefits based on your medical history and situation.
FLCCC
and
WCH
provide treatment protocols.
Submit