A randomized controlled trial of combined ivermectin and zinc sulfate versus combined hydroxychloroquine, darunavir/ritonavir, and zinc sulfate among adult patients with asymptomatic or mild coronavirus-19 infection
RCT low-risk patients in Thailand comparing HCQ, darunavir/ritonavir, and zinc, with ivermectin and zinc, showing no significant differences. All patients recovered. 65% of patients were asymptomatic at baseline, 26% were PCR- at baseline, and 84% were culture negative at baseline. The percentage of patients symptomatic at baseline was 15% higher for ivermectin.The reported trial id
NCT02045069
(history)
is a 2014 dengue trial with a status of recruiting
[clinicaltrials.gov]
. Authors claim both treatments had no clinical benefit, however all patients were discharged from quarantine as planned between 10-14 days, and there was no control group. Authors claim there was "no clear evidence of antiviral effects for the control arm", however there was no control arm. Authors indicate that all patients were discharged within 14 days, however they report that one patient had Ct 22.11 at day 12.
risk of progression,

50.9% lower

, RR 0.49, p = 0.62
, treatment 1 of 57 (1.8%), control 2 of 56 (3.6%), NNT 55.
risk of no viral clearance,

49.7% higher

, RR 1.50, p = 0.12
, treatment 25 of 56 (44.6%), control 17 of 57 (29.8%), mid-recovery, day 7, modified intention-to-treat.
risk of no viral clearance,

56.0% higher

, RR 1.56, p = 0.048
, treatment 24 of 38 (63.2%), control 17 of 42 (40.5%), mid-recovery, day 7, per-protocol.
time to viral-,

16.7% higher

, relative time 1.17, p = 0.42
, treatment 57, control 56.
Effect extraction follows pre-specified rules prioritizing more serious outcomes. Submit updates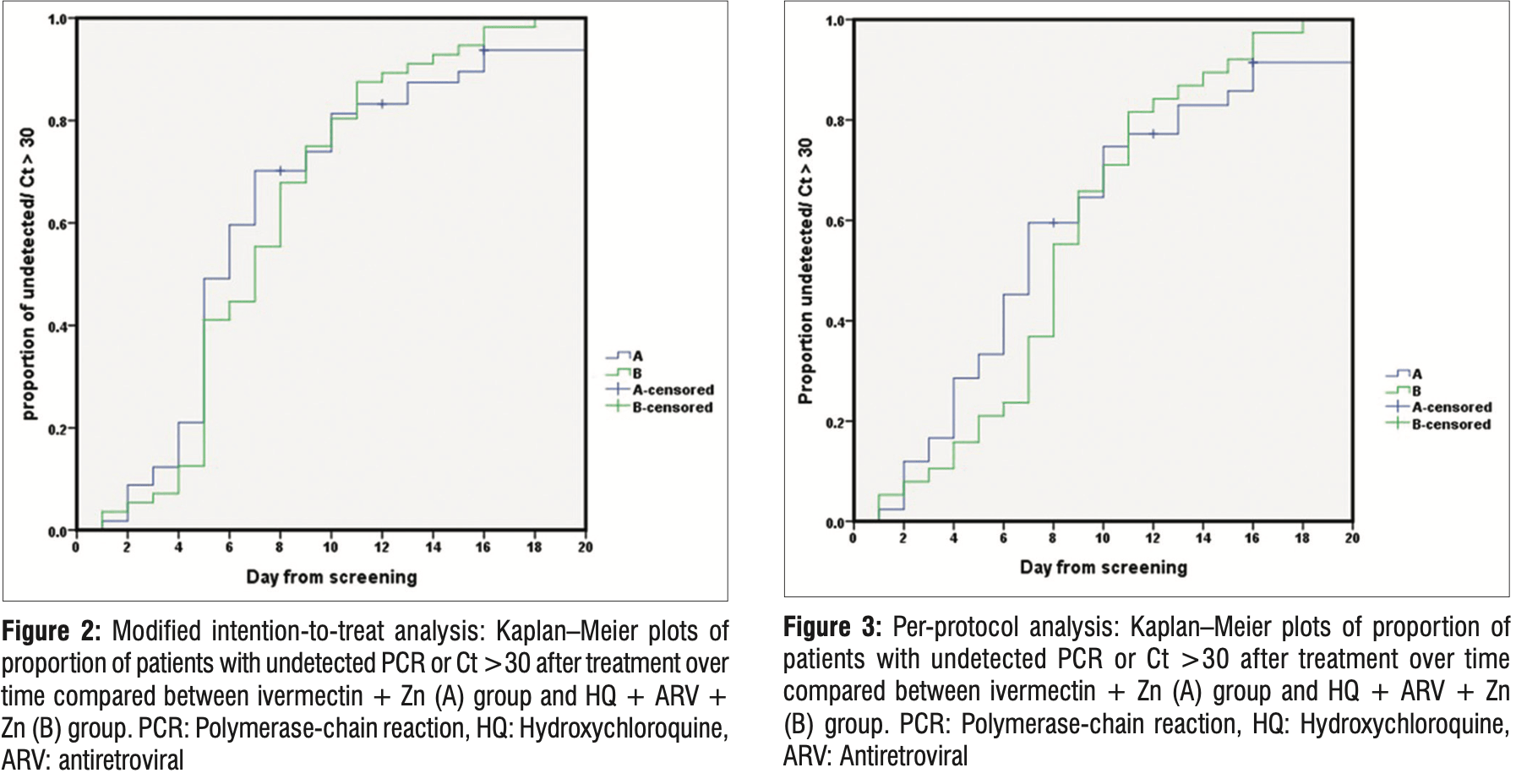 Nimitvilai et al., 29 Jun 2022, Randomized Controlled Trial, Thailand, peer-reviewed, 10 authors, study period December 2020 - April 2021, this trial compares with another treatment - results may be better when compared to placebo, this trial uses multiple treatments in the treatment arm (combined with darunavir/ritonavir and zinc sulfate) - results of individual treatments may vary, trial
NCT02045069
(history)
.
Contact: ysuputtamongkol@gmail.com.
Abstract: [ Original Article A Randomized Controlled Trial of Combined Ivermectin and Zinc Sulfate versus Combined Hydroxychloroquine, Darunavir/ Ritonavir, and Zinc Sulfate among Adult Patients with Asymptomatic or Mild Coronavirus‑19 Infection Sireethorn Nimitvilai, Yupin Suputtamongkol1, Ussanee Poolvivatchaikarn, Dechatorn Rassamekulthana2, Nuttawut Rongkiettechakorn2, Anek Mungaomklang3, Susan Assanasaen1, Ekkarat Wongsawat1, Chompunuch Boonarkart4, Waritta Sawaengdee5 Department of Medicine, Nakhon Pathom Hospital, Nakhon Pathom, Departments of 1Medicine and 4Microbiology, Faculty of Medicine Siriraj Hospital, Mahidol University, 2The Golden Jubilee Medical Center, Faculty of Medicine Siriraj Hospital, 3Office of Disease Prevention and Control Region 4 Saraburi, Ministry of Public Health, Bangkok, 5Department of Medical Sciences, Genomic Medicine and Innovation Support, Ministry of Public Health, Nonthaburi, Thailand Abstract Introduction: Ivermectin, hydroxychloroquine (HQ), and darunavir/ritonavir are widely prescribed as an oral treatment for severe acute respiratory syndrome coronavirus‑2 (SARS‑CoV‑2) infection despite their uncertainty of clinical benefit. The objective is to determine the safety and the efficacies of two treatment regimens against SARS‑CoV‑2 infection. Methods: We conducted an open‑labeled, randomized, controlled trial to compare the efficacy between a 3‑day course of once‑daily high‑dose oral ivermectin plus zinc sulfate (Group A) and a combination of HQ, darunavir/ritonavir, and zinc sulfate (HQ + antiretroviral, Group B) for 5 days in asymptomatic or mild SARS‑CoV‑2 infection. The study period was between December 2020 and April 2021. Results: Overall, 113 patients were randomized and analyzed (57 patients in Group A and 56 patients in Group B). The median duration to achieve the virological outcome of either undetected or cycle threshold (Ct) for N gene of SARS‑CoV‑2 by real‑time polymerase chain reaction was 6 days (95% confidence interval [CI] 5.3–6.7) versus 7 days (95% CI: 5.4–8.6) in Group A and Group B, respectively (P = 0.419) in the modified intention‑to‑treat population. All patients were discharged from hospital quarantine as planned. Two patients in Group A and one patient in Group B were considered clinically worsening and received 10 days of favipiravir treatment. There was no serious adverse event found in both groups. Conclusion: We demonstrated that both treatment regimens were safe, but both treatment regimens had no virological or clinical benefit. Based on this result and current data, there is no supporting evidence for the clinical benefit of ivermectin for coronavirus‑19. Keywords: Coronavirus‑19, darunavir/ritonavir, hydroxychloroquine, ivermectin
nimitvilai
Please send us corrections, updates, or comments. Vaccines and treatments are complementary. All practical, effective, and safe means should be used based on risk/benefit analysis. No treatment, vaccine, or intervention is 100% available and effective for all current and future variants. We do not provide medical advice. Before taking any medication, consult a qualified physician who can provide personalized advice and details of risks and benefits based on your medical history and situation.
FLCCC
and
WCH
provide treatment protocols.
Submit