A retrospective analysis on pharmacological approaches to COVID-19 patients in an Italian hub hospital during the early phase of the pandemic
Retrospective 277 hospitalized patients in Italy, showing lower mortality with HCQ treatment, not reaching statistical significance, and subject to
confounding by indication
. This study is excluded in the after exclusion results of meta analysis: excessive unadjusted differences between groups; substantial unadjusted
confounding by indication
likely.
risk of death,

35.2% lower

, RR 0.65, p = 0.12
, treatment 32 of 200 (16.0%), control 19 of 77 (24.7%), NNT 12.
Effect extraction follows pre-specified rules prioritizing more serious outcomes. Submit updates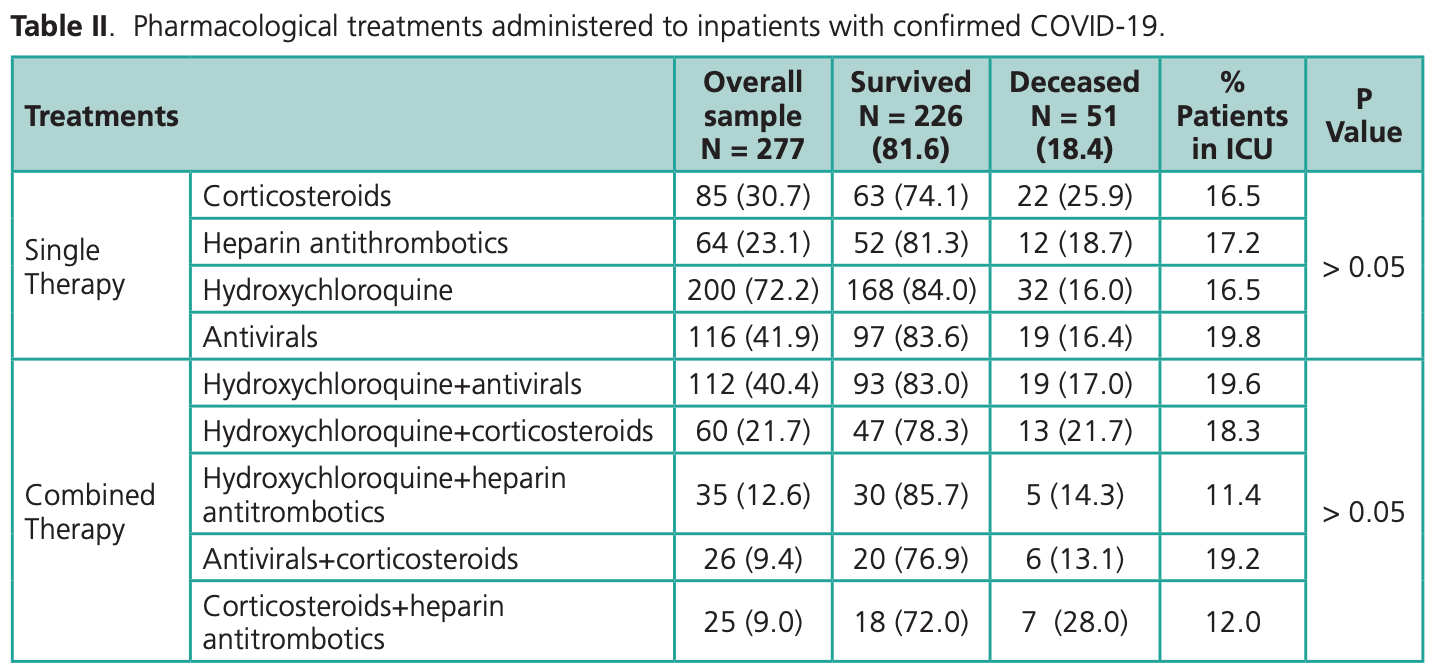 Menardi et al., 30 Sep 2021, retrospective, Italy, peer-reviewed, 10 authors.
Abstract: ORIGINAL ARTICLE Volume 3, issue 3, 2021: 577-85 A RETROSPECTIVE ANALYSIS ON PHARMACOLOGICAL APPROACHES TO COVID-19 PATIENTS IN AN ITALIAN HUB HOSPITAL DURING THE EARLY PHASE OF THE PANDEMIC G. Menardi1, L. Infante2, V. Del Bono3, L. Fenoglio4, D. Collotta1, P. Macagno5, C. Bedogni5, M. Rebora5, C. Fruttero2, M. Collino6 Department of Drug Science and Technology, University of Turin, Turin, Italy Hospital Pharmacy, S. Croce e Carle Hospital, Cuneo, Italy 3 Division of Infection Disease, S. Croce e Carle Hospital, Cuneo, Italy 4 Division of Internal Medicine, S. Croce e Carle Hospital, Cuneo, Italy 5 General Manager, S. Croce e Carle Hospital, Cuneo, Italy 6 Rita Levi-Montalcini Department of Neuroscience, University of Turin, Turin, Italy 1 2 E-mail: massimo.collino@unito.it Doi: 10.36118/pharmadvances.2021.15 SUMMARY COVID-19 is a complex, multi-organ systemic disease caused by the SARS-CoV-2 coronavirus whose pathophysiological basis and pharmacological approaches are still to be defined. Our study aims to retrospectively evaluate the role played by clinical and demographic variables as well as the specific therapies administered in COVID-19 patients admitted to a referral Hospital in Northern Italy (Santa Croce e Carle Hospital, Cuneo) during the COVID-19 first epidemic wave. We analyzed data from 277 patients with virological diagnosis of COVID-19 who were admitted to the hospital from February 20th to April 30th 2020. The inpatients' pharmacological treatments and clinical outcomes were assessed up to May 31st 2020. Correlations between pharmacological treatments as well as clinical and demographic variables and clinical outcomes have been performed. Several drugs were used in different dosages and combinations. In the first weeks of the epidemic, the most widely used drugs were hydroxychloroquine and the antivirals lopinavir/ritonavir and darunavir/cobicistat, then replaced by corticosteroids and heparin derivatives. Supplementation with vitamin C, D, or polyvitamins exerted a slight, but not significant, increase in survival rate, mainly in patients over 65 years old. Results showed that age and comorbidities significantly affected the survival as shown by the Charlson Comorbidity Index which was significantly higher in patients who died than in those who survived, thus confirming that victims of the disease were mostly debilitated and elderly people. The most influencing COVID-19 survival factors here recorded were age and comorbidities. No statistically significant differences were detected among the different pharmacological treatments used in our clinical setting during the first epidemic wave. Impact statement No significant differences have been recorded in terms of efficacy among the several pharmacological approaches used during the first epidemic way in an Italian hub hospital. Key words COVID-19; Italian hub hospital; pharmacological treatments; comorbidities. © 2021 The Italian Society of Pharmacology (SIF). Published by EDRA SPA. All rights reserved 577 G. MENARDI, L. INFANTE, V. DEL BONO, ET AL.
Please send us corrections, updates, or comments. Vaccines and treatments are complementary. All practical, effective, and safe means should be used based on risk/benefit analysis. No treatment, vaccine, or intervention is 100% available and effective for all current and future variants. We do not provide medical advice. Before taking any medication, consult a qualified physician who can provide personalized advice and details of risks and benefits based on your medical history and situation.
FLCCC
and
WCH
provide treatment protocols.
Submit