Retrospective 134 hospitalized COVID-19 patients in India, showing no significant difference with HCQ treatment in unadjusted results.Although the 29% lower mortality is not statistically significant, it is consistent with the significant 24% lower mortality
[19‑28%]
from meta analysis of the
246 mortality results to date
. This study is excluded in the after exclusion results of meta analysis: unadjusted results with no group details.
risk of death,

28.7% lower

, RR 0.71, p = 0.36
, treatment 25 of 102 (24.5%), control 11 of 32 (34.4%), NNT 10.
Effect extraction follows pre-specified rules prioritizing more serious outcomes. Submit updates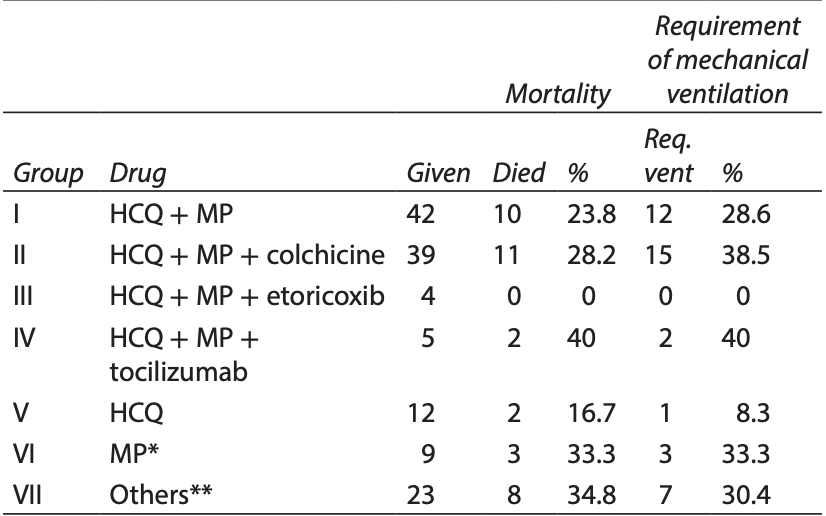 Mahale et al., 31 Dec 2020, retrospective, India, peer-reviewed, 22 authors, study period 22 March, 2020 - 21 May, 2020.
A Retrospective Observational Study of Hypoxic COVID-19 Patients Treated with Immunomodulatory Drugs in a Tertiary Care Hospital
Indian Journal of Critical Care Medicine, doi:10.5005/jp-journals-10071-23599
Objectives: To describe the demographics and evaluate the clinical outcomes of hypoxic coronavirus disease-2019 (COVID-19) patients treated with different immunomodulatory (IM) drugs in a resource-limited setting. Materials and methods: We conducted a retrospective cohort study of these patients admitted to our hospital between March 22 and May 31, 2020. Data were abstracted from multiple electronic data sources or patient charts to provide information on patient characteristics, clinical, laboratory variables, and outcomes. Results: A total of 134 patients met the inclusion criteria and were followed up till June 7, 2020. The median age of the patients was 55.6 years (range 20-89 years) and 68% were men. At least one comorbidity was seen in 72% of the patients with diabetes (44%) and hypertension (46%) being the most common. At triage, fever (82%), shortness of breath (77%), and cough (61%) were the most common presenting symptoms. A PaO 2 /FiO 2 ratio less than 300 was seen in 60%, and 4.5% required invasive mechanical ventilation within 72 hours of hospital admission. Five immunomodulatory agents (hydroxychloroquine, methylprednisolone, colchicine, etoricoxib, and tocilizumab) were administered in different combinations. Overall, in-hospital mortality was 26.9%, and 32% required mechanical ventilation. Around 69% of patients were discharged home. Five variables (SpO 2 , PaO 2 /FiO 2 ratio, leukocytosis, lymphopenia, and creatinine) on admission were found to be significant in the patients who died. Conclusion: Our study provides the characteristics and outcomes of hypoxic COVID-19 patients treated with IM drugs in varied combination. Five independent variables were strong predictors of mortality.
References
Fadel, Morrison, Vahia, Smith, Chaudhry et al., Henry Ford COVID-19 Management Task Force
Mohfw, Gov, None