Retrospective 2,200 healthcare workers in India, 996 taking HCQ prophylaxis, showing no significant differences. There were large differences in the occupation of participants and therefore exposure, and the authors make no adjustments. This study is excluded in the after exclusion results of meta analysis: excessive unadjusted differences between groups.
risk of severe case,

141.8% higher

, RR 2.42, p = 0.59
, treatment 2 of 996 (0.2%), control 1 of 1,204 (0.1%).
risk of case,

6.4% higher

, RR 1.06, p = 0.67
, treatment 103 of 996 (10.3%), control 117 of 1,204 (9.7%).
Effect extraction follows pre-specified rules prioritizing more serious outcomes. Submit updates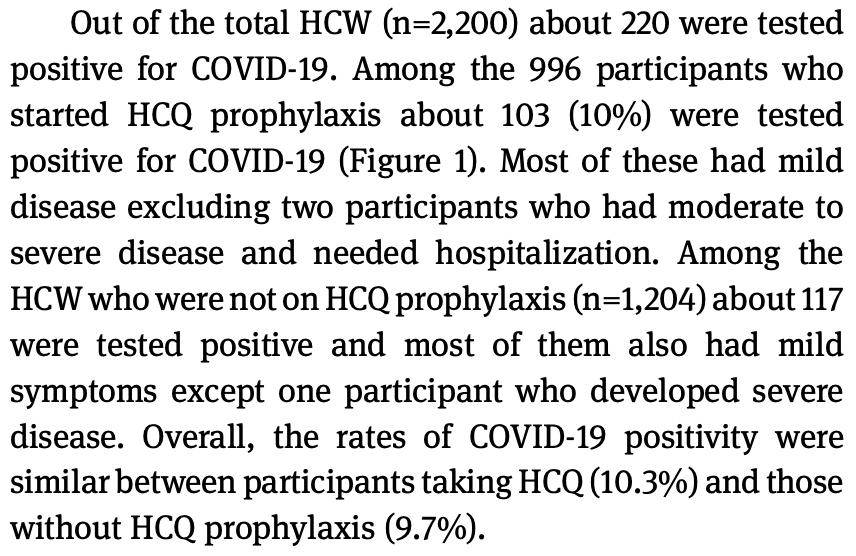 Juneja et al., 7 Jan 2022, retrospective, India, peer-reviewed, 9 authors, study period 2 April, 2020 - 3 September, 2020.
Hydroxychloroquine pre-exposure prophylaxis provides no protection against COVID-19 among health care workers: a cross-sectional study in a tertiary care hospital in North India
Journal of Basic and Clinical Physiology and Pharmacology, doi:10.1515/jbcpp-2021-0221
Objectives: The use of Hydroxychloroquine (HCQ) prophylaxis has been recommended by the National task force constituted by the Indian Council of Medical Research (ICMR) for the prevention of corona virus disease 2019 (COVID-19) among healthcare workers (HCWs). However, this recommendation was based essentially on the preclinical data and limited clinical experience. The aim of this study was to evaluate the efficacy and safety of HCQ as a pre-exposure prophylaxis for COVID-19 infection among Indian HCWs. Methods: A cross-sectional study was conducted among HCWs of a tertiary care hospital in north India. The HCQ prophylaxis was initiated among 996 HCWs and they were followed up to 8 weeks for conversion to COVID-19 positive status and any adverse drug reaction (ADR). Results: About 10.3% of the study participants were tested positive for COVID-19 which was comparable to the positivity rate among HCWs not taking HCQ prophylaxis (9.7%). Conclusions: HCQ was well tolerated at a weekly dose of 400 mg for 8 weeks but provided no additional benefit in prevention of COVID-19 among HCWs.
References
Abella, Jolkovsky, Biney, Uspal, Hyman et al., Prevention and treatment of COVID-19 with hydroxychloroquine (PATCH) investigators. Efficacy and safety of hydroxychloroquine vs placebo for pre-exposure SARS-CoV-2 prophylaxis among health care workers: a randomized clinical trial, JAMA Intern Med
Bhattacharyya, Raizada, Nagappa, Tomar, Maurya et al., Chemoprophylaxis of COVID-19 with hydroxychloroquine: a study of health care workers attitude, adherence to regime and side effects,
doi:10.1101/2020.06.11.20126359v1
Boulware, Pullen, Bangdiwala, Pastick, Lofgren et al., A randomized trial of hydroxychloroquine as postexposure prophylaxis for COVID-19, N Engl J Med
Chen, Li, Lu, Shen, Zhou, Hydroxychloroquine/ Chloroquine as therapeutics for COVID-19: truth under the mystery, Int J Biol Sci
Ferner, Aronson, Chloroquine and hydroxychloroquine in COVID-19, BMJ
Gio, Tian, Yang, Breakthrough: chloroquine phosphate has shown apparent efficacy in treatment of COVID-19 associated pneumonia in clinical studies, Biosci Trends
Hartwig, Siegel, Schneider, Preventability and severity assessment in reporting adverse drug reactions, Am J Hosp Pharm
Jha, Batra, Siddiqui, Yadav, Misra et al., HCQ prophylaxis in COVID-19 did not show any QTc prolongation in Healthcare workers, Indian Heart J
Juneja, Hydroxychloroquine as pre-exposure prophylaxis for COVID-19 among HCWs
Rana, Ghadlinge, Singh, Chandane, Khanna, Assessment of knowledge, attitude and practices on the use of hydroxychloroquine (HCQ) as prophylaxis for COVID-19 infection among medical doctors: a cross-sectional study, Pharm Biomed Res
Toumi, Biernikiewicz, Liang, Wang, Qiu et al., A critical analysis and review of Lancet COVID-19 hydroxychloroquine study, J Mark Access Health Policy