Non-COVID-19 study showing significantly lower risk of severe infections with HCQ among 925 SLE patients. Infections included pulmonary, urinary tract, skin and soft tissue, intra-abdominal, gastroenteritis, sepsis, infectious arthritis, and upper respiratory tract infections, with the most common being pneumonia.
risk of hospitalization,

67.8% lower

, HR 0.32, p = 0.007
, adjusted per study, multivariable, Cox proportional hazards.
Effect extraction follows pre-specified rules prioritizing more serious outcomes. Submit updates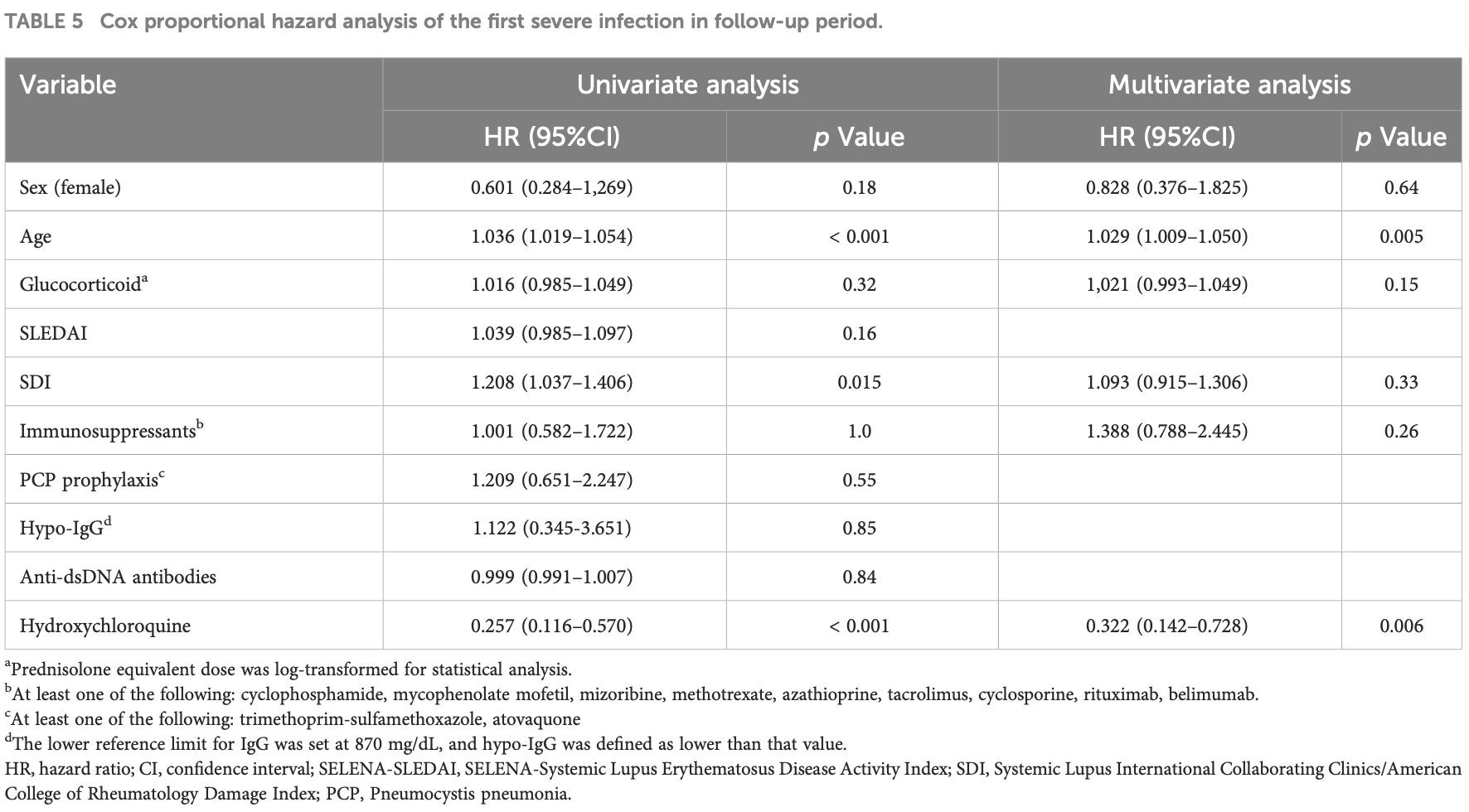 Hidekawa et al., 1 Sep 2023, Japan, peer-reviewed, 32 authors.
Contact: yoshiryu@med.yokohama-cu.ac.jp.
Protective effect of hydroxychloroquine on infections in patients with systemic lupus erythematosus: an observational study using the LUNA registry
Frontiers in Immunology, doi:10.3389/fimmu.2023.1227403
Objectives: Infection is a leading cause of death in patients with systemic lupus erythematosus (SLE). Alt hough hydroxychloroquine (HCQ) has been reported to inhibit infection, evidence from Asian populations remains insufficient. We investigated this effect in Japanese SLE patients. Methods: Data from the Lupus Registry of Nationwide Institutions were used in this study. The patients were ≥20 years old and met the American College of Rheumatology (ACR) classification criteria revised in 1997. We defined "severe infections" as those requiring hospitalization. We analyzed the HCQ's effect on infection suppression using a generalized estimating equation (GEE) logistic Frontiers in Immunology frontiersin.org 01
Ethics statement The studies involving humans were approved by the Institutional Review Board of Yokohama City University. The studies were conducted in accordance with the local legislation and institutional requirements. The participants provided their written informed consent to participate in this study. Author contributions Conception and design: RY. Data analysis and interpretation, drafting and editing of manuscripts: CH, RY, and HNak. Statistical analysis: YSai and JT. Patient follow-up, analysis and interpretation of data: NK, NSu, NSa, YY, YS-K, YKu, DK, KH, YSat, TK, HNag, NH, AM, NT, LH, YSo, KT-M, YKi, NY, K-ES, YM, KI, SO, HK, SS, YSh, and MF. Critical review of papers and approval of manuscripts: all authors. Conflict of interest KS received a speaker's fee from GlaxoSmithKline PLC and research grants from Pfizer Inc. YKi received a speaker's fee from Amgen and Novartis and research funding from Nippon Shinyaku. RY received a speaker's fee from GlaxoSmithKline PLC, AstraZeneca PLC, and Sanofi S.A. The remaining authors declare that the research was conducted in the absence of any commercial or financial relationships that could be construed as a potential conflict of interest. Publisher's note All claims expressed in this article are solely those of the authors and do not necessarily represent those of their affiliated organizations, or those of the publisher, the editors and the reviewers. Any product that may be evaluated in this article, or claim that..
References