The Need for Early Management in Patients With COVID-19
et al., Research Square,
The Need for Early Management in Patients With COVID-19
,
Research Square, doi:rs.3.rs-251817/v1 (Preprint)
,
Review of early treatment of COVID-19 at IHU Méditerranée Infection in France, including HCQ+AZ treatment, comparing outcomes to those for all of France. Age-standardized mortality was lower with early treatment for all periods of the epidemic. Authors recommend early treatment for all age groups.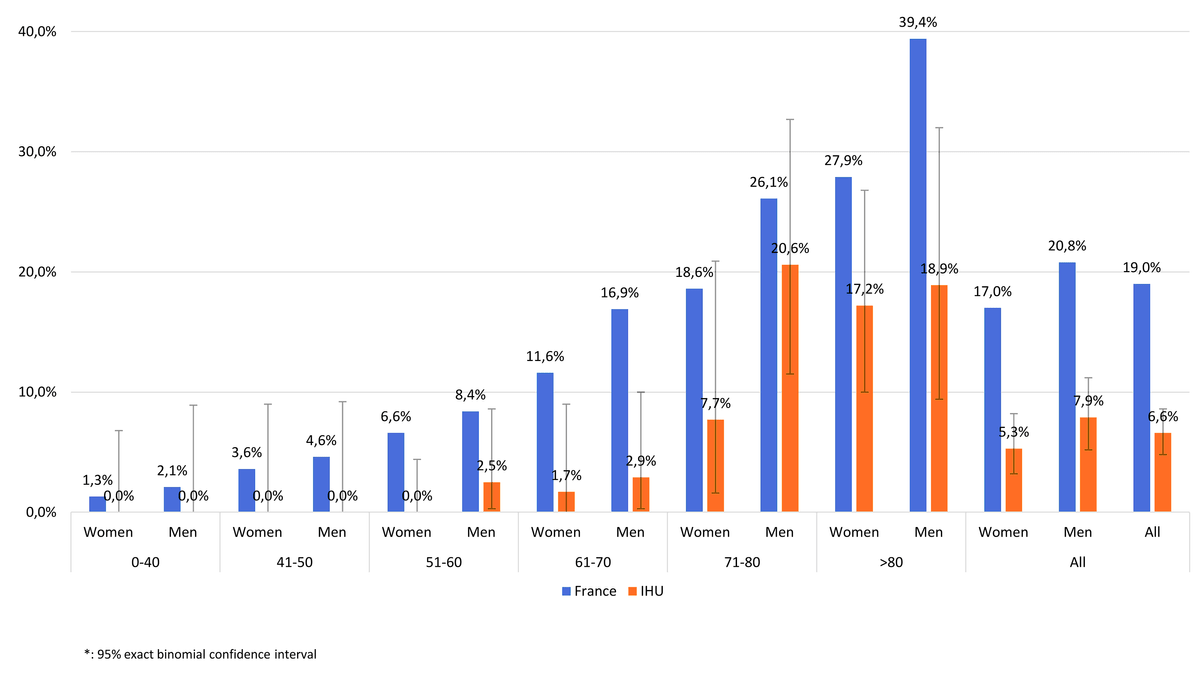 Giraud-Gatineau et al., 26 Feb 2021, preprint, 9 authors.
Abstract: The Need for Early Management in Patients With COVID-19 Audrey Giraud-Gatineau IHU Mediterranee Infection Sébastien Cortaredona IHU Mediterranee Infection Jean-Christophe Lagier IHU Mediterranee Infection Matthieu Million IHU Mediterranee Infection Philippe Brouqui IHU Mediterranee Infection Yolande Obadia IHU Mediterranee Infection Patrick Peretti-Watel ORS-PACA: Observatoire Regional de la Sante Provence-Alpes-Cote d'Azur Didier Raoult IHU Mediterranee Infection https://orcid.org/0000-0002-0633-5974 Stéphanie Gentile (  StephanieMarie.GENTILE@ap-hm.fr ) Aix Marseille Univ, School of medicine - La Timone Medical Campus, EA 3279: CEReSS - Health Service Research and Quality of life Center https://orcid.org/0000-0003-3858-9503 Research article Keywords: COVID-19, early management, patients, SARS-CoV-2, IHU Méditerranée Infection Posted Date: February 25th, 2021 DOI: https://doi.org/10.21203/rs.3.rs-251817/v1 License:   This work is licensed under a Creative Commons Attribution 4.0 International License. Read Full License Page 1/14 Abstract In March 2020, the IHU Méditerranée Infection set up a screening and treatment center for patients with COVID-19, a system that has been ultimately recommended by French public health authorities. The recent publication of the profiles of patients hospitalized in France published by the Directorate for Research, Studies, Evaluation and Statistics gives us the opportunity to measure the impact of this multidisciplinary early management system coupled with screening on mortality at 90 days. Analysis of the data shows that the system established at IHU-MI was associated with lower mortality, taking age and sex into account. Regarding the age-standardized mortality rate, mortality rates were lower than national data regardless of the period of the epidemic. Early management seems to have significantly decreased the mortality rate in the under-60 age group, suggesting the importance of early management, regardless of age. In addition, these patients had pejorative clinical criteria (high NEWS-2 score, ICU visits, oxygen saturation below 95%) requiring hospitalization, and co-morbidities that are now known to be aggravating factors [7]. This reinforces the need to care for all individuals, regardless of age. Early medical care, as part of a system integrating a screening center and a day hospital, may explain the lower mortality rates.
Please send us corrections, updates, or comments. Vaccines and treatments are complementary. All practical, effective, and safe means should be used based on risk/benefit analysis. No treatment, vaccine, or intervention is 100% available and effective for all current and future variants. We do not provide medical advice. Before taking any medication, consult a qualified physician who can provide personalized advice and details of risks and benefits based on your medical history and situation.
FLCCC
and
WCH
provide treatment protocols.
Submit