Higher mortality of hospitalized haematologic patients with COVID-19 compared to non-haematologic is driven by thrombotic complications and development of ARDS: An age-matched cohorts study
Retrospective 71 hospitalized haematologic patients in Spain, showing lower mortality with HCQ treatment in unadjusted results and without statistical significance.Although the 27% lower mortality is not statistically significant, it is consistent with the significant 24% lower mortality
[19‑28%]
from meta analysis of the
244 mortality results to date
. This study is excluded in the after exclusion results of meta analysis: unadjusted results with no group details.
risk of death,

27.0% lower

, RR 0.73, p = 0.47
, treatment 23 of 63 (36.5%), control 4 of 8 (50.0%), NNT 7.4.
Effect extraction follows pre-specified rules prioritizing more serious outcomes. Submit updates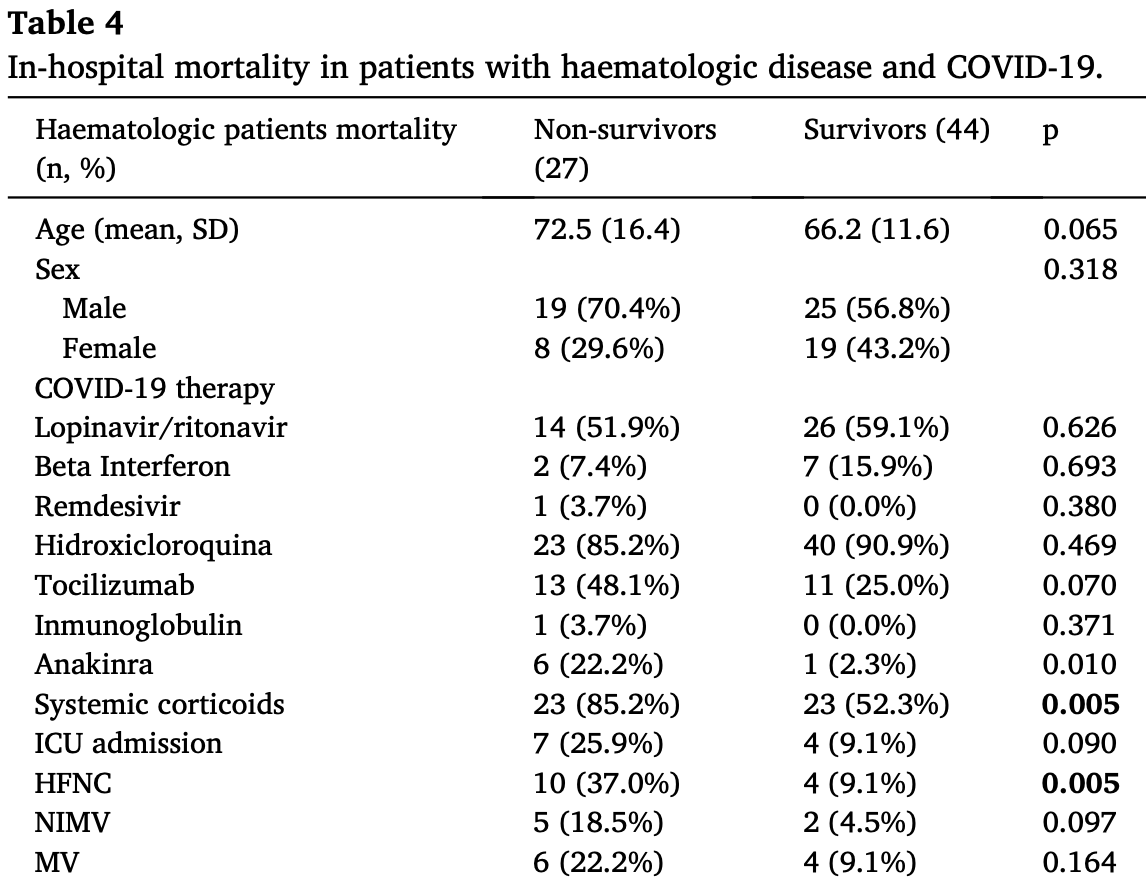 Fernández-Cruz et al., 31 Jan 2022, retrospective, Spain, peer-reviewed, 10 authors, study period March 2020 - May 2020.
Contact: afcruz@salud.madrid.org.
Abstract: Clinical Infection in Practice 13 (2022) 100137 Contents lists available at ScienceDirect Clinical Infection in Practice journal homepage: www.sciencedirect.com/journal/clinical-infection-in-practice Case Reports and Series Higher mortality of hospitalized haematologic patients with COVID-19 compared to non-haematologic is driven by thrombotic complications and development of ARDS: An age-matched cohorts study☆ Ana Fernández-Cruz a, g, *, Alba Puyuelo b, Lucía Núñez Martín-Buitrago b, Enrique SánchezChica c, Carmen Díaz-Pedroche d, h, j, Rosa Ayala e, h, Manuel Lizasoain f, h, Rafael Duarte b, g, i, Carlos Lumbreras f, h, j, Juan Antonio Vargas c, g, i a Infectious Diseases Department, Hospital Puerta de Hierro-Majadahonda, Madrid, Spain Haematology Department, Hospital Puerta de Hierro-Majadahonda, Madrid, Spain c Internal Medicine Department, Hospital Puerta de Hierro-Majadahonda, Madrid, Spain d Internal Medicine Department, Hospital Doce de Octubre, Madrid, Spain e Haematology Department, Hospital Doce de Octubre, Madrid, Spain f Infectious Diseases Department, Hospital Doce de Octubre, Madrid, Spain g Fundación de Investigación Sanitaria Puerta de Hierro - Segovia de Arana, Spain h Fundación para la Investigación Biomédica del Hospital Universitario, 12 de Octubre, Spain i Universidad Autónoma de Madrid, Spain j Universidad Complutense de Madrid, Spain b A R T I C L E I N F O A B S T R A C T Keywords COVID-19 Haematologic Outcome Mortality Background and Objectives: The characteristics of COVID-19 in haematologic patients compared to nonhaematologic patients have seldom been analyzed. Our aim was to analyze whether there are differences in clinical characteristics and outcome of haematologic patients with COVID-19 as compared to non-haematologic. Patients and methods: Retrospective cohort study in 2 University hospitals of patients admitted with laboratoryconfirmed COVID-19 included in the SEMICOVID19 database. The cohort with underlying haematologic disease was compared to a cohort of age and date-of-COVID-19-matched controls without haematologic disease (1:2). Results: 71 cases and 142 controls were included from March-May 2020. Twenty (28.1%) had received recent chemotherapy. Twelve (16.9%) were stem cell transplant recipients (SCT). Eleven (15.5%) were neutropenic concurrently with COVID-19 diagnosis. Haematologic patients presented ARDS (58.5 vs 20.7%, p = 0.0001), thrombotic complications (15.7 vs 2.1%, p = 0.002), DIC (5.7 vs 0.0%, p = 0.011), heart failure (14.3 vs 4.9%, p = 0.029) and required ICU admission (15.5 vs 2.8%, p = 0.001), MV (14.1% vs 2.1%, p 0.001), steroid (64.8 vs 33.1%, p = 0.0001), tocilizumab (33.8 vs 8.5%, p = 0.0001) or anakinra treatment (9.9% vs 0%, p = 0.0001) more often. In-hospital mortality was significantly higher (38.0% vs 18.3%, p = 0.002). Conclusions: Our results suggest COVID-19 has worse outcomes in haematologic patients than in nonhaematologic, independently of age, and that the development of ARDS and thrombotic complications drive the higher in-hospital mortality. Abbreviations: ARDS, acute respiratory distress syndrome; C-RP, C-reactive protein; CI, confidence interval; CLL, chronic lymphocytic leukemia; COVID-19, Coronavirus disease 2019; DIC, disseminated intravascular coagulation; ECOG scale, Eastern Cooperative Oncology Group scale; G-CSF, granulocyte stimulating factor; HFNC, high flow nasal cannula; ICU, Intensive Care Unit; IL6, Interleukin 6; IQR,..
Please send us corrections, updates, or comments. Vaccines and treatments are complementary. All practical, effective, and safe means should be used based on risk/benefit analysis. No treatment, vaccine, or intervention is 100% available and effective for all current and future variants. We do not provide medical advice. Before taking any medication, consult a qualified physician who can provide personalized advice and details of risks and benefits based on your medical history and situation.
FLCCC
and
WCH
provide treatment protocols.
Submit