COVID-19 outcomes in patients with antiphospholipid syndrome: a retrospective cohort study
COVID-19 outcomes in patients with antiphospholipid syndrome: a retrospective cohort study
,
Bratislava Medical Journal, doi:10.4149/BLL_2022_018
,
Retrospective 9 COVID-19 patients with antiphospholipid syndrome in Turkey, showing no significant differences based on existing HCQ treatment. This study is excluded in the after exclusion results of meta analysis: unadjusted results with no group details.
risk of death,

150.0% higher

, RR 2.50, p = 1.00
, treatment 1 of 6 (16.7%), control 0 of 3 (0.0%), continuity correction due to zero event (with reciprocal of the contrasting arm).
risk of hospitalization,

75.0% lower

, RR 0.25, p = 0.23
, treatment 1 of 6 (16.7%), control 2 of 3 (66.7%), NNT 2.0.
Effect extraction follows pre-specified rules prioritizing more serious outcomes. Submit updates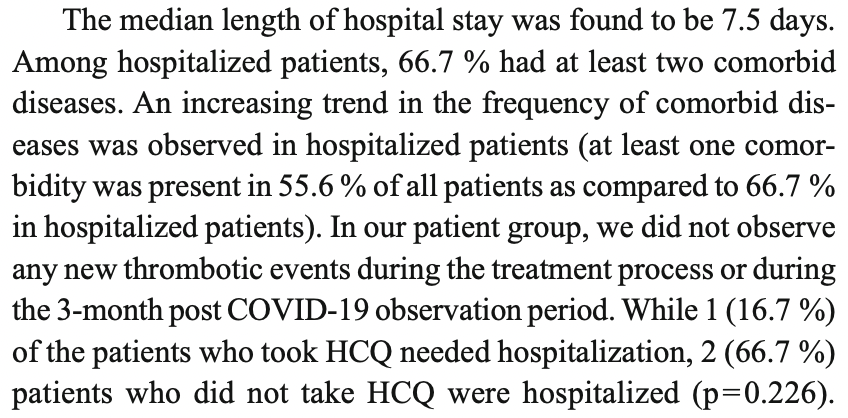 Erden et al., 23 Jan 2022, retrospective, Turkey, peer-reviewed, 11 authors.
Abstract: DOI: 10.4149/BLL_2022_018 Bratisl Med J 2022; 123 (2) 120 – 124 CLINICAL STUDY COVID-19 outcomes in patients with antiphospholipid syndrome: a retrospective cohort study Erden A1, Karakas O1, Armagan B1, Guven SC1, Ozdemir B1, Atalar E1, Apaydin H1, Usul E2, Ates I3, Omma A1, Kucuksahin O4 Ankara Sehir Hastanesi, MH6 Onkoloji binasi, Romatoloji bolumu, Bilkent, Cankaya, Ankara, Turkey. drserdarguven@gmail.com ABSTRACT BACKGROUND: Aim of this study is to investigate COVID-19 outcomes in patients with antiphospholipid syndrome (APS). METHODS: A retrospective cohort was formed from APS patients. Patients were screened for a record of positive SARS-CoV 2 PCR. In PCR-positive patients, clinical data and information regarding COVID-19 outcomes were collected from medical records. RESULTS: A positive PCR test was detected in 9/53 APS patients, while 66.7 %, 33.3 % and 11.1 % of APS patients with COVID-19 were under hydroxychloroquine, LMWH or warfarin, and acetylsalicylic acid, respectively. There were 3/9 patients found to be hospitalized and one died. No new thrombotic event was reported in any of the patients during COVID-19 infection. CONCLUSION: Baseline use of hydroxychloroquine, antiaggregants and anticoagulants may be associated with an absence of new thrombotic event (Tab. 2, Ref. 33). Text in PDF www.elis.sk KEY WORDS: antiphospholipid syndrome, COVID-19, outcome, thrombosis, mortality.
Please send us corrections, updates, or comments. Vaccines and treatments are complementary. All practical, effective, and safe means should be used based on risk/benefit analysis. No treatment, vaccine, or intervention is 100% available and effective for all current and future variants. We do not provide medical advice. Before taking any medication, consult a qualified physician who can provide personalized advice and details of risks and benefits based on your medical history and situation.
FLCCC
and
WCH
provide treatment protocols.
Submit