Safety analysis of CQ and HCQ covering 46 RCTs with 23,132 patients, showing no mortality attributed to CQ/HCQ. Authors conclude that the data reinforces that CQ and HCQ have a good safety profile though caution is advised when using higher than usual doses in hospitalized COVID-19 patients.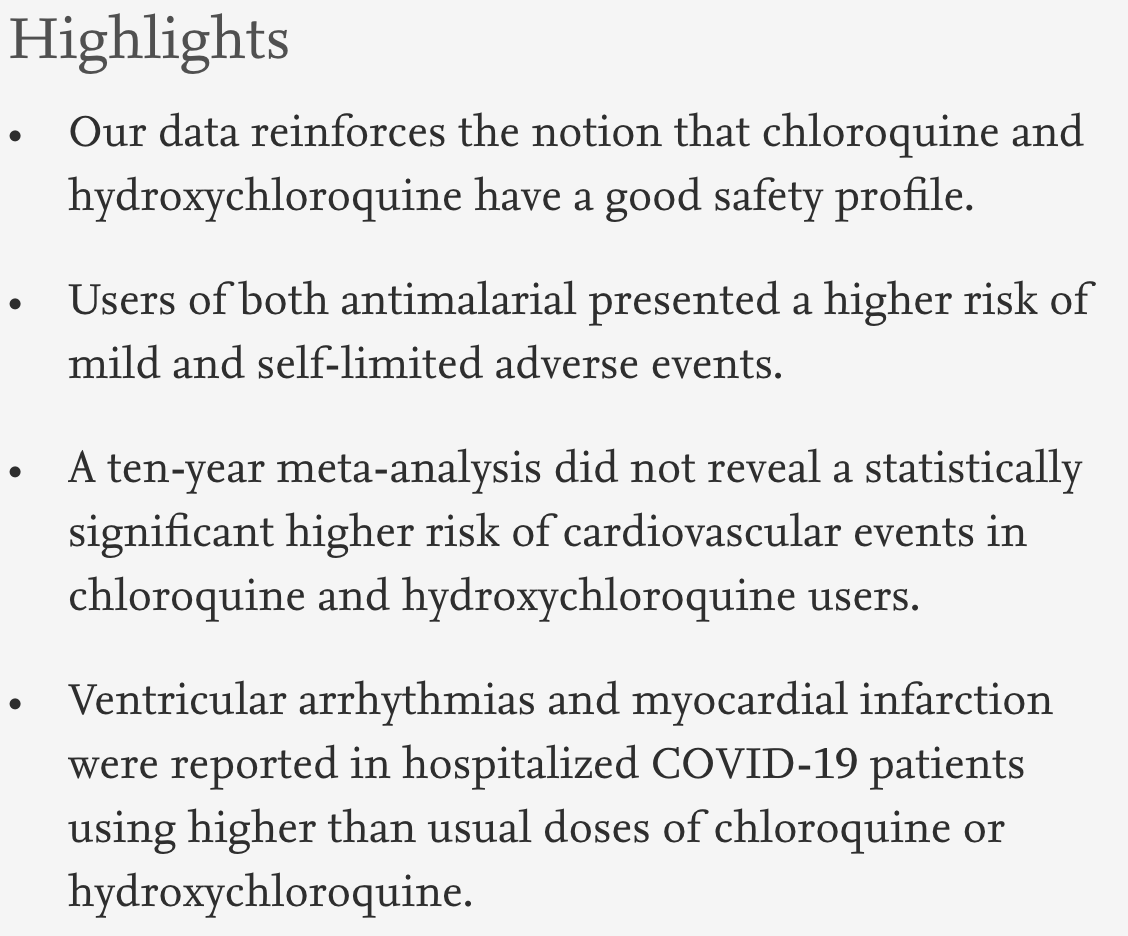 Edington et al., 5 Apr 2021, peer-reviewed, 3 authors.
Safety of treatment with chloroquine and hydroxychloroquine: A ten-year systematic review and meta-analysis
European Journal of Internal Medicine, doi:10.1016/j.ejim.2021.03.028
To estimate the incidence rate ratio (IRR) of adverse events (AE) in chloroquine or hydroxychloroquine users. Methods: We systematically reviewed randomized controlled trials (RCTs), using MEDLINE (2010MEDLINE ( -2020) ) and EMBASE (2010-2020) databases, reporting AE in chloroquine or hydroxychloroquine users during treatment for lupus, rheumatoid arthritis, malaria and COVID-19. The protocol for this systematic review is registered at the PROSPERO database (CRD42020197938). The quality of the included studies was assessed using the Cochrane risk-of-Bias tool and relevant data were extracted though a customized data collection form, independently, by two authors. The IRR of AE was estimated using a random-effect model meta-analysis and heterogeneity was evaluated by T 2 and I 2 . Subgroup analysis was performed, and publication bias was assessed by funnel-plot. Results: Forty-six RCTs met our eligibility criteria and were included in our analysis (23132 patients). There was not a single death attributed to chloroquine or hydroxychloroquine use in the included RCTs. The IRR of general AE during antimalarial use was 1.15 [CI 95% 1.01-1.31]. COVID-19 patients treated with either antimalarial presented an 83% and 165% higher risk of developing general and gastrointestinal AE, respectively, in comparison with controls. The use of antimalarial increased the risk of developing dermatological AE by 92% in malarial studies and reduced by 65% in lupus studies. We did not find a significatively higher risk of cardiovascular nor ophthalmological AE in antimalarial users. Conclusions: Our data reinforces that chloroquine and hydroxychloroquine have a good safety profile though caution is advised when using higher than usual doses in hospitalized COVID-19 patients.
Ethics approval and consent to participate As all the data used in this systematic review is available for public access, there is no need of ethics committee approval. Consent Not applicable. Author's contribution FLBE conceptualized, drafted and is the guarantor of this manuscript. FLBE and SG developed the selection criteria, the risk of bias assessment strategy and data extraction criteria. MBS and SG reviewed the manuscript. All authors read, provided feedback and approved this systematic review. Declaration of Competing Interest The authors declare that they have no competing interest.
References
Cavalcanti, Zampieri, Rosa, Azevedo, Veiga et al., Hydroxychloroquine with or without azithromycin in mild-to-moderate Covid-19