Negativización de PCR a SARS-CoV-2 en muestra respiratoria en pacientes con necesidad de asistencia recurrente
Retrospective 15 pediatric patients in Spain, showing faster viral clearance with HCQ+AZ, without statistical significance. Treatment time and details are not provided.
time to viral-,

29.2% lower

, relative time 0.71, p = 0.45
, treatment median 17.0 IQR 16.0 n=5, control median 24.0 IQR 21.0 n=5, onset to clearance.
Effect extraction follows pre-specified rules prioritizing more serious outcomes. Submit updates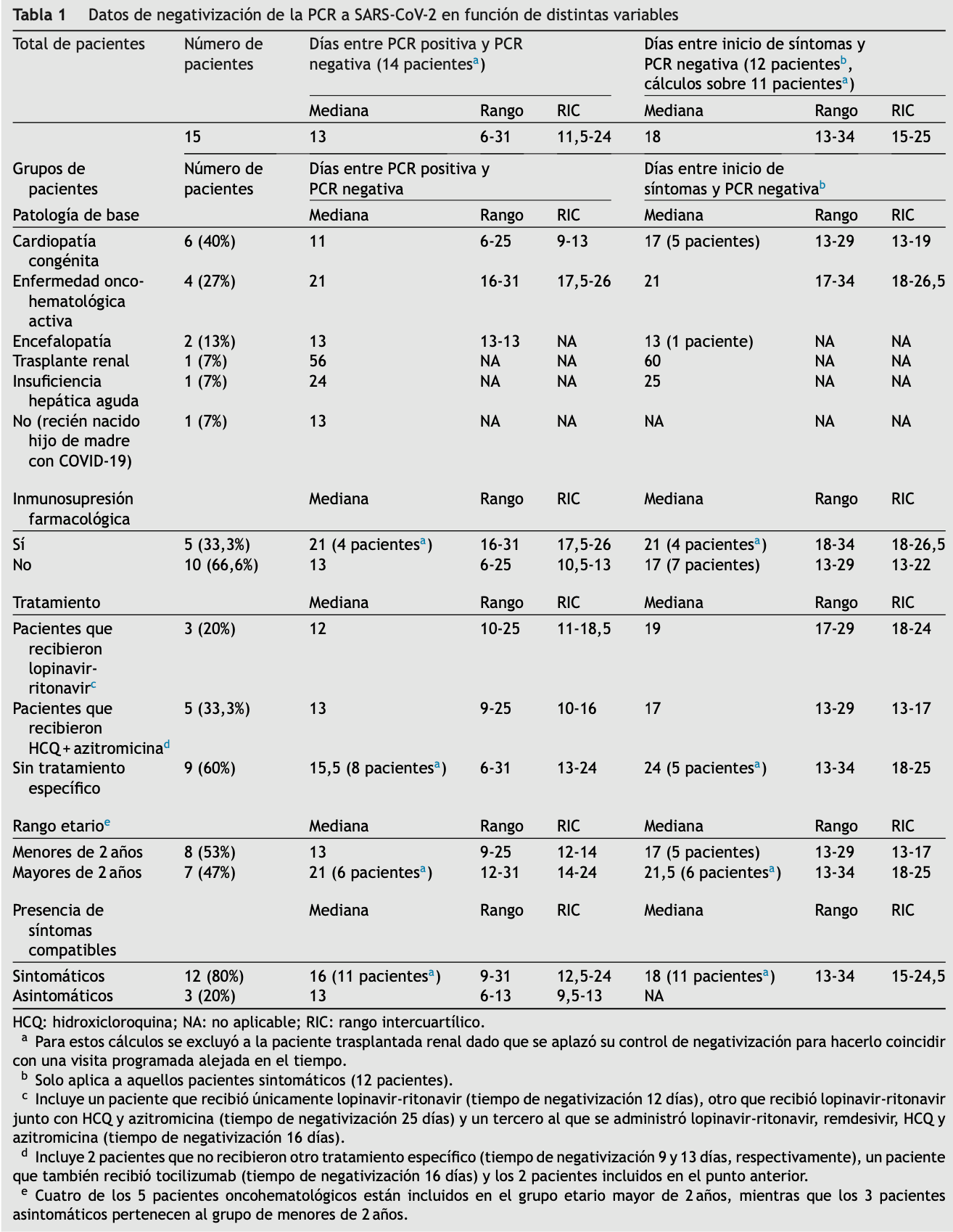 Bassets-Bosch et al., 30 Apr 2022, retrospective, Spain, peer-reviewed, 5 authors, study period 11 March, 2020 - 30 April, 2020, this trial uses multiple treatments in the treatment arm (combined with AZ) - results of individual treatments may vary.
Contact: cristinalarrosaespinosa@gmail.com, segonzalez@vhebron.net, sgonzalezperis@gmail.com.
Abstract: Anales de Pediatría 96 (2022) 350---371 Figura 1 A) Imagen de dermatoscopia: lesión seudovascular. B) Lesión cupuliforme, irregular, de coloración eritematosa viva. Bibliografía 1. Stefanaki C, Chardalias L, Soura E, Katsarou A, Stratigos A. Paediatric melanoma. J Eur Acad Dermatology Venereol. 2017;31:1604---15. 2. Merkel EA, Mohan LS, Shi K, Panah E, Zhang B, Gerami P. Paediatric melanoma: clinical update, genetic basis, and advances in diagnosis. Lancet Child Adolesc Heal. 2019;3:646---54, http://dx.doi.org/10.1016/S2352-4642(19)30116-6. 3. Lu C, Zhang J, Nagahawatte P, Easton J, Lee S, Liu Z, et al. The genomic landscape of childhood and adolescent melanoma. J Invest Dermatol. 2015;135:816---23, http://dx.doi.org/10.1038/jid.2014.425. 4. Requena C, Rubio L, Traves V, Sanmartín O, Nagore E, Llombart B, et al. Fluorescence in situ hybridization for the differential diagnosis between Spitz naevus and spitzoid melanoma. Histopathology. 2012;61:899---909. 5. Wiesner T, Kutzner H, Cerroni L, Jr MJM, Klaus J, Murali R, et al. Genomic aberrations in spitzoid tumours and their implications for diagnosis, prognosis and therapy. 2017;48:113---31. 6. Stefanaki C, Stefanaki K, Antoniou C, Argyrakos T, Patereli A, Stratigos A, et al. Cell cycle and apoptosis regulators in Spitz Negativización de PCR a SARS-CoV-2 en muestra respiratoria en pacientes con necesidad de asistencia recurrente SARS-CoV-2 PCR negativization in respiratory sample in patients with need for recurring assistance Sra. Editora: Además de las consecuencias en términos de morbimortalidad (especialmente en pacientes adultos), la pandemia de nevi: Comparison with melanomas and common nevi. J Am Acad Dermatol. 2007;56:815---24. Cristina Larrosa a,∗ , Antonio Torrelo b , Luis Madero a y Álvaro Lassaletta a a Unidad de Onco-Hematología Pediátrica y Trasplante de Progenitores Hematopoyéticos, Hospital Universitario Niño Jesús, Madrid, España b Unidad de Dermatología, Hospital Universitario Niño Jesús, Madrid, España ∗ Autor para correspondencia. Correo electrónico: cristinalarrosaespinosa@gmail.com (C. Larrosa). https://doi.org/10.1016/j.anpedi.2021.01.008 1695-4033/ © 2021 Publicado por Elsevier España, S.L.U. en nombre de Asociación Española de Pediatrı́a. Este es un artı́culo Open Access bajo la licencia CC BY-NC-ND (http:// creativecommons.org/licenses/by-nc-nd/4.0/). SARS-CoV-2/COVID-19 ha amenazado con bloquear los circuitos asistenciales habituales. En este sentido, la detección de SARS-CoV-2 en pacientes con necesidad de contacto reiterado con el sistema sanitario ha obligado a establecer estrategias seguras de control clínico y de negativización. Se analizaron los datos de los pacientes diagnosticados de infección por SARS-CoV-2 mediante PCR en muestra respiratoria entre el 11 de marzo y el 30 de abril de 2020 en un hospital terciario pediátrico de referencia de Barcelona (España), a los que se hubiera practicado posteriormente un nuevo estudio para comprobar la negativización de la PCR en aspirado nasofaríngeo. Dicho estudio se realizó a pacientes con necesidad de asistencia seriada en hospitales de día, procedimientos, hospitalizaciones programadas, etc. Para estos controles clínicos y de negativización, y pos357 CARTAS CIENTÍFICAS Tabla 1 Datos de negativización de la PCR a SARS-CoV-2 en función de distintas variables Total de pacientes Grupos de pacientes Número..
Please send us corrections, updates, or comments. c19early involves the extraction of over 100,000 datapoints from thousands of papers.
Community updates
help ensure high accuracy. Vaccines and treatments are complementary. All practical, effective, and safe means should be used based on risk/benefit analysis. No treatment, vaccine, or intervention is 100% available and effective for all current and future variants. We do not provide medical advice. Before taking any medication, consult a qualified physician who can provide personalized advice and details of risks and benefits based on your medical history and situation.
FLCCC
and
WCH
provide treatment protocols.
Submit