605 hospitalized patients in Saudi Arabia showing no mortality with HCQ (only 6 patients received HCQ).
risk of death,

98.9% lower

, RR 0.01, p = 0.60
, treatment 0 of 6 (0.0%), control 91 of 599 (15.2%), NNT 6.6, relative risk is not 0 because of continuity correction due to zero events (with reciprocal of the contrasting arm).
Effect extraction follows pre-specified rules prioritizing more serious outcomes. Submit updates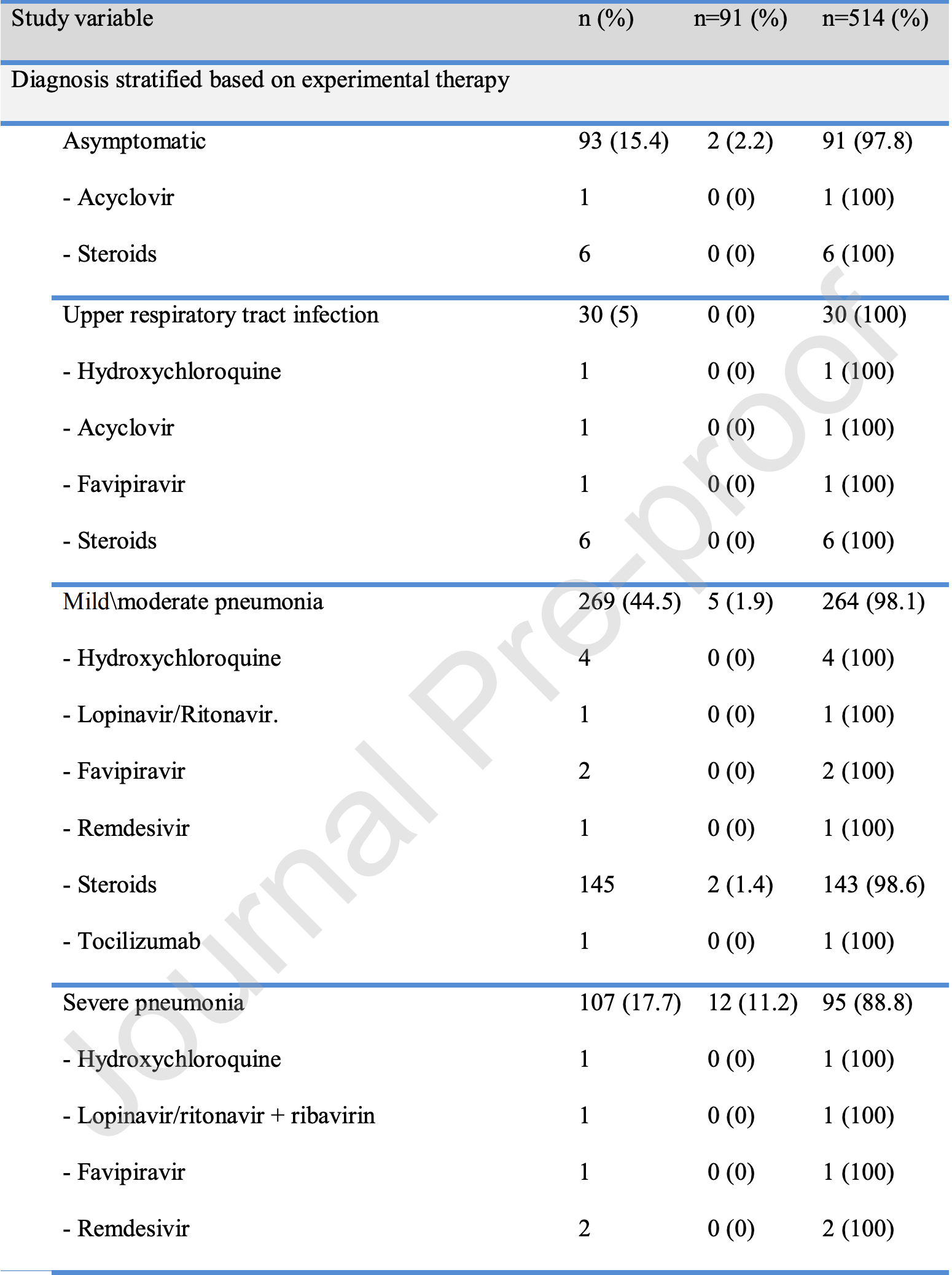 Barry et al., 23 Mar 2021, retrospective, Saudi Arabia, peer-reviewed, 14 authors.
Clinical characteristics and outcomes of hospitalized COVID-19 patients in a MERS-CoV referral hospital during the peak of the pandemic
International Journal of Infectious Diseases, doi:10.1016/j.ijid.2021.03.058
To describe the clinical characteristics and outcomes of hospitalized coronavirus disease 2019 patients in a middle east respiratory syndrome coronavirus (MERS-CoV) referral hospital during the peak months of the pandemic. Design: A single-center case series of hospitalized individuals with confirmed severe acute respiratory syndrome coronavirus 2 (SARS-CoV-2) infections in King Saud University Medical City (KSUMC), an academic tertiary care hospital in Riyadh, Saudi Arabia. Clinical and biochemical markers were documented. Risks for ventilatory support, intensive care unit (ICU) admission and death are presented. Results: Out of 12,688 individuals tested for SARS-CoV-2 by real time reverse transcriptase polymerase reaction (RT-PCR) from June 1 to August 31, 2020, 2,683 (21%) were positive for COVID-19. Of the latter, 605 (22%) patients required hospitalization with a median age of 55, 368 (61%) were male. The most common comorbidities were hypertension (43%) and diabetes (42%). Most patients presented with fever (66%), dyspnea (65%), cough (61%), elevated IL-6 (93.5%), D-dimer (90.1%), CRP (86.1%), and lymphopenia (41.7%). No MERS-CoV co-infection was detected. Overall, 91 patients (15%) died; risk factors associated with mortality were an age of 65 years or older OR 2.29 [95%CI 1.43-3.67], presence of two or more comorbidities OR 3.17 [95%CI 2.00-5.02], symptoms duration of seven days or less ) lymphopenia ], high CRP OR 2.85 [95%CI 1.1-7.32], high AST OR 2.95 [95% CI 1.77-4.90], high creatinine OR 3.71 [95%CI 2.30-5.99], and high troponin-I OR 2.84 [95%CI 1.33-6.05]. Conclusion: There is a significant increase in severe cases of COVID-19. Mortality was associated with older age, shorter symptom duration, high CRP, low lymphocyte count, and end-organ damage.
Conflict of interest None declared.
References
Who, MERS situation update