Retrospective 149 patients under invasive mechanical ventilation in Germany showing no significant difference in mortality with HCQ in unadjusted results.
risk of death,

40.2% lower

, RR 0.60, p = 0.12
, treatment 4 of 9 (44.4%), control 104 of 140 (74.3%), NNT 3.4.
Effect extraction follows pre-specified rules prioritizing more serious outcomes. Submit updates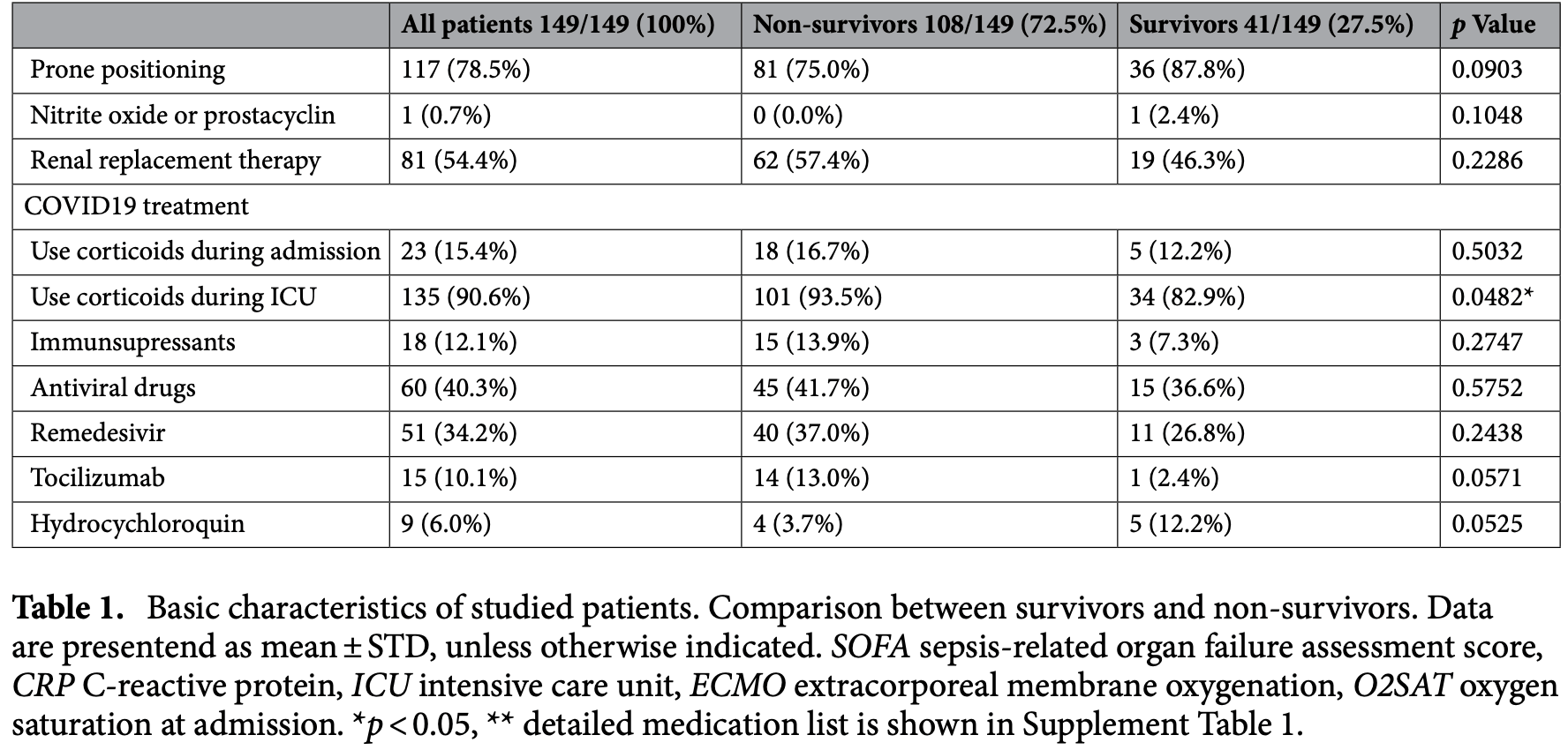 Aweimer et al., 29 Mar 2023, retrospective, Germany, peer-reviewed, median age 67.0, 19 authors, study period 1 March, 2020 - 31 August, 2021.
Mortality rates of severe COVID-19-related respiratory failure with and without extracorporeal membrane oxygenation in the Middle Ruhr Region of Germany
Scientific Reports, doi:10.1038/s41598-023-31944-7
The use of extracorporeal membrane oxygenation (ECMO) is discussed to improve patients' outcome in severe COVID-19 with respiratory failure, but data on ECMO remains controversial. The aim of the study was to determine the characteristics of patients under invasive mechanical ventilation (IMV) with or without veno-venous ECMO support and to evaluate outcome parameters. Ventilated patients with COVID-19 with and without additional ECMO support were analyzed in a retrospective multicenter study regarding clinical characteristics, respiratory and laboratory parameters in dayto-day follow-up. Recruitment of patients was conducted during the first three COVID-19 waves at four German university hospitals of the Ruhr University Bochum, located in the Middle Ruhr Region. From March 1, 2020 to August 31, 2021, the charts of 149 patients who were ventilated for COVID-19 infection, were included (63.8% male, median age 67 years). Fifty patients (33.6%) received additional ECMO support. On average, ECMO therapy was initiated 15.6 ± 9.4 days after symptom onset, 10.6 ± 7.1 days after hospital admission, and 4.8 ± 6.4 days after the start of IMV. Male sex and higher SOFA and RESP scores were observed significantly more often in the high-volume ECMO center. Premedication with antidepressants was more often detected in survivors (22.0% vs. 6.5%; p = 0.006). ECMO patients were 14 years younger and presented a lower rate of concomitant cardiovascular
Author contributions A.A. and L.P. take responsibility for the content of the manuscript, including the data and analysis. A.A., A.M., T.R., C.D., T.B., J.F., D.B. contributed to the conception and design of the study. A.A., L.P., B.J., R.K., D.B., A.M. analyzed and interpreted the patient data. A.A., L.P. and B.J. performed the statistical analyses. A.A., A.M., I.E. and TB were major contributors in writing the manuscript. J.D., R.K., D.B., T.R., U.F., M.A., J.B., I.H. contributed to interpretation of the data and revised the manuscript. All authors read and approved the final manuscript. Competing interests The authors declare no competing interests.
References
Barbaro, Maclaren, Boonstra, Iwashyna, Slutsky et al., Extracorporeal Life Support Organization
Fraaij, Severe acute respiratory infection caused by swine influenza virus in a child necessitating extracorporeal membrane oxygenation (ECMO), the Netherlands, Eurosurveill
Mcelvaney, Characterization of the inflammatory response to severe COVID-19 illness, Am. J. Respir. Crit. Care Med
Mehta, COVID-19: Consider cytokine storm syndromes and immunosuppression, Lancet
Oliveira, Wong, Lippi, Henry, Analysis of clinical and demographic heterogeneity of patients dying from COVID-19 in Brazil versus China and Italy, Braz. J. Infect. Dis