Negative Nasopharyngeal SARS-CoV-2 PCR Conversion in Response to Different Therapeutic Interventions
Negative Nasopharyngeal SARS-CoV-2 PCR Conversion in Response to Different Therapeutic Interventions
,
Cureus, doi:10.7759/cureus.21442
,
Retrospective 93 hospitalized patients in Saudi Arabia, 45 treated with CQ/HCQ, showing no significant difference in viral clearance. More patients treated with CQ/HCQ had severe cases at baseline (20% vs. 2%).Although the viral clearance result is not statistically significant, it is consistent with the significant 20% improved viral clearance
[10‑29%]
from meta analysis of the
42 viral clearance results to date
. This study is excluded in the after exclusion results of meta analysis: excessive unadjusted differences between groups.
risk of no viral clearance,

14.7% lower

, RR 0.85, p = 0.65
, treatment 12 of 45 (26.7%), control 15 of 48 (31.2%), NNT 22, day 5, primary outcome.
risk of no viral clearance,

25.3% lower

, RR 0.75, p = 0.60
, treatment 7 of 45 (15.6%), control 10 of 48 (20.8%), NNT 19, day 12.
Effect extraction follows pre-specified rules prioritizing more serious outcomes. Submit updates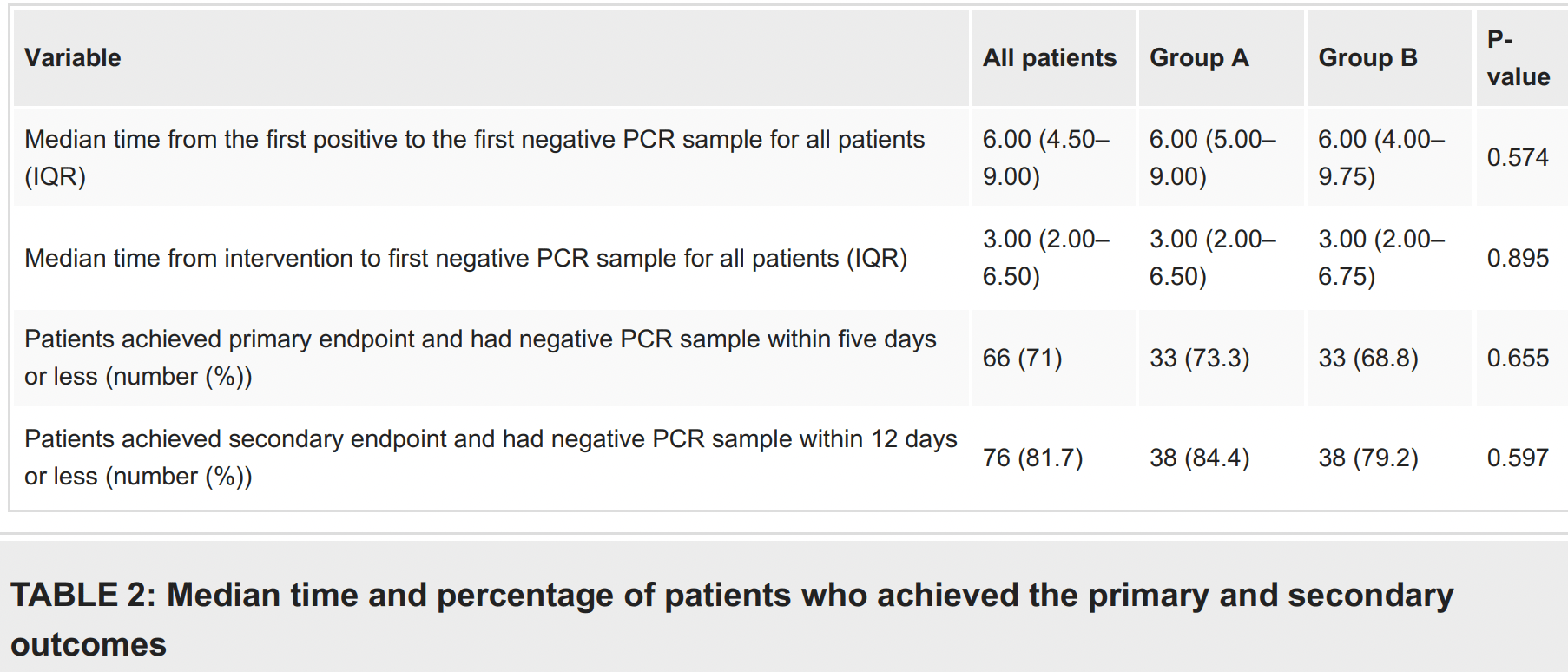 Alwafi et al., 20 Jan 2022, retrospective, Saudi Arabia, peer-reviewed, 6 authors, study period 7 March, 2020 - 15 April, 2020.
Abstract: Open Access Original Article DOI: 10.7759/cureus.21442 Negative Nasopharyngeal SARS-CoV-2 PCR Conversion in Response to Different Therapeutic Interventions Review began 01/11/2022 Review ended 01/17/2022 Hassan Alwafi 1 , Mohammed H. Shabrawishi 2 , Abdallah Y. Naser 3 , Ahmad M. Aldobyany 4 , Sultan A. Qanash 5, 6 , Abdelfattah A. Touman 4 Published 01/20/2022 © Copyright 2022 Alwafi et al. This is an open access article distributed under the terms of the Creative Commons Attribution License CC-BY 4.0., which permits unrestricted use, distribution, and reproduction in any medium, provided the original author and source are credited. 1. Pharmacology and Therapeutics, Umm Al-Qura University, Mecca, SAU 2. Pulmonology Department, Al Noor Specialist Hospital, Mecca, SAU 3. Faculty of Pharmacy, Isra University, Amman, JOR 4. Pulmonology Department, King Abdullah Medical City, Mecca, SAU 5. Department of Internal Medicine, King Saud bin Abdulaziz University for Health Sciences, Jeddah, SAU 6. King Abdullah International Medical Research Center, King Abdulaziz Medical City, Jeddah, SAU Corresponding author: Abdelfattah A. Touman, abdotouman@gmail.com Abstract Background The current management practices for patients with COVID-19 consist of infection prevention and supportive care. We aimed to explore the association between negative nasopharyngeal SARS-CoV-2 polymerase chain reaction (PCR) clearance and different therapeutic interventions. Methods This study is a retrospective cohort study of 93 patients who were admitted to a tertiary hospital in Saudi Arabia with a PCR confirmed diagnosis of COVID-19. There were three intervention subgroups (group A) (n = 45), which included those who received chloroquine or hydroxychloroquine (HCQ) only (A1), those who received chloroquine or HCQ in combination with azithromycin (A2), and those who received chloroquine or HCQ in combination with antiviral drugs with or without azithromycin (A3), as well as one supportive care group (group B) (n = 48). The primary and secondary endpoints were achieving negative SARS-CoV-2 nasopharyngeal PCR samples within five and 12 days from the start of the intervention, respectively. Results A median time of three days (interquartile range (IQR): 2.00-6.50) is needed from the time of starting the intervention/supportive care to the first negative PCR sample. There was no statistically significant difference neither between the percentage of patients in the intervention group and the supportive care group who achieved the primary or secondary endpoint nor in the median time needed to achieve the first negative PCR sample (p > 0.05). Conclusion Prescribing antimalarial medications was not shown to shorten the disease course nor to accelerate the negative PCR conversion rate. Categories: Infectious Disease, Therapeutics Keywords: novel coronavirus, infectious disease, sars-cov-2, hydroxychloroquine, covid-19
Please send us corrections, updates, or comments. Vaccines and treatments are complementary. All practical, effective, and safe means should be used based on risk/benefit analysis. No treatment, vaccine, or intervention is 100% available and effective for all current and future variants. We do not provide medical advice. Before taking any medication, consult a qualified physician who can provide personalized advice and details of risks and benefits based on your medical history and situation.
FLCCC
and
WCH
provide treatment protocols.
Submit