Retrospective 93 hospitalized patients in Saudi Arabia, 45 treated with CQ/HCQ, showing no significant difference in viral clearance. More patients treated with CQ/HCQ had severe cases at baseline (20% vs. 2%).Although the viral clearance result is not statistically significant, it is consistent with the significant 20% improved viral clearance
[10‑28%]
from meta analysis of the
44 viral clearance results to date
. This study is excluded in the after exclusion results of meta analysis: excessive unadjusted differences between groups.
risk of no viral clearance,

14.7% lower

, RR 0.85, p = 0.65
, treatment 12 of 45 (26.7%), control 15 of 48 (31.2%), NNT 22, day 5, primary outcome.
risk of no viral clearance,

25.3% lower

, RR 0.75, p = 0.60
, treatment 7 of 45 (15.6%), control 10 of 48 (20.8%), NNT 19, day 12.
Effect extraction follows pre-specified rules prioritizing more serious outcomes. Submit updates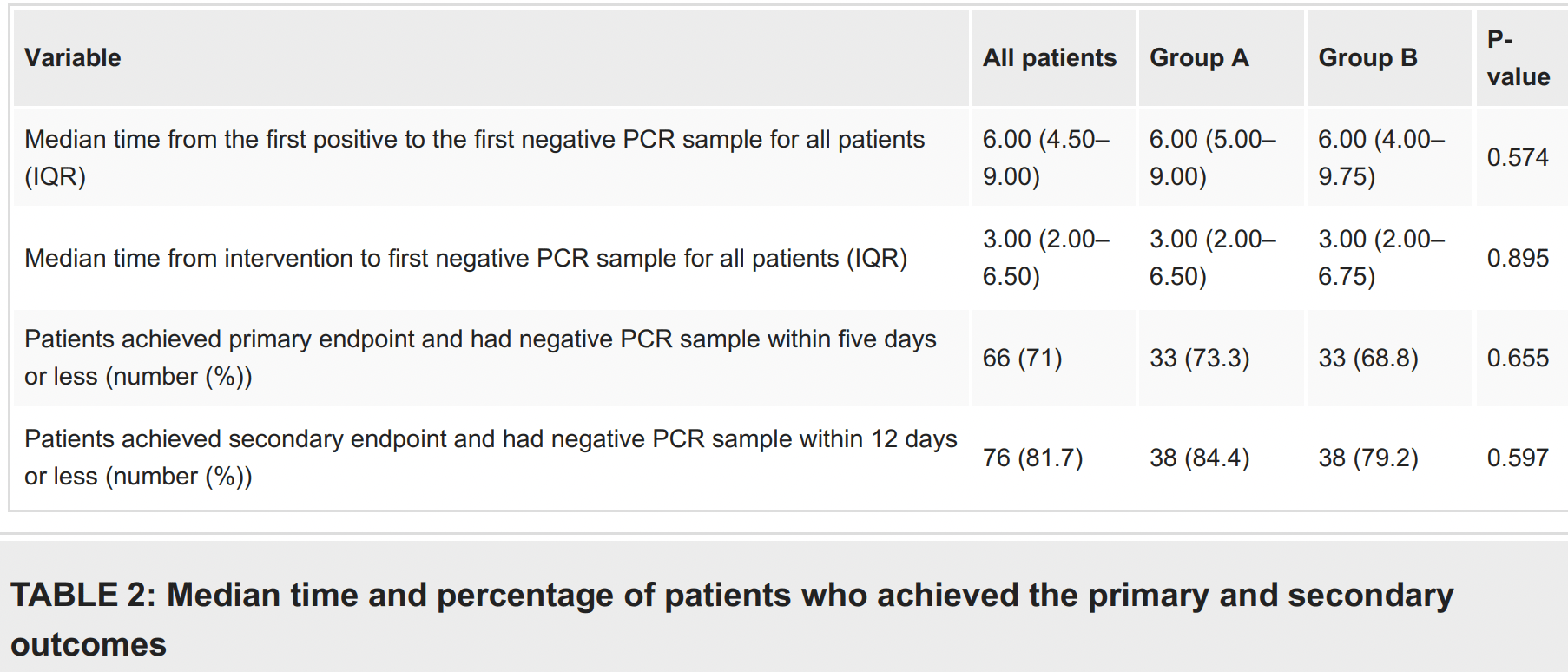 Alwafi et al., 20 Jan 2022, retrospective, Saudi Arabia, peer-reviewed, 6 authors, study period 7 March, 2020 - 15 April, 2020.
Negative Nasopharyngeal SARS-CoV-2 PCR Conversion in Response to Different Therapeutic Interventions
Cureus, doi:10.7759/cureus.21442
Background The current management practices for patients with COVID-19 consist of infection prevention and supportive care. We aimed to explore the association between negative nasopharyngeal SARS-CoV-2 polymerase chain reaction (PCR) clearance and different therapeutic interventions. Methods This study is a retrospective cohort study of 93 patients who were admitted to a tertiary hospital in Saudi Arabia with a PCR confirmed diagnosis of COVID-19. There were three intervention subgroups (group A) (n = 45), which included those who received chloroquine or hydroxychloroquine (HCQ) only (A1), those who received chloroquine or HCQ in combination with azithromycin (A2), and those who received chloroquine or HCQ in combination with antiviral drugs with or without azithromycin (A3), as well as one supportive care group (group B) (n = 48). The primary and secondary endpoints were achieving negative SARS-CoV-2 nasopharyngeal PCR samples within five and 12 days from the start of the intervention, respectively. Results A median time of three days (interquartile range (IQR): 2.00-6.50) is needed from the time of starting the intervention/supportive care to the first negative PCR sample. There was no statistically significant difference neither between the percentage of patients in the intervention group and the supportive care group who achieved the primary or secondary endpoint nor in the median time needed to achieve the first negative PCR sample (p > 0.05). Conclusion Prescribing antimalarial medications was not shown to shorten the disease course nor to accelerate the negative PCR conversion rate.
Additional Information Disclosures Human subjects: Consent was obtained or waived by all participants in this study. The institutional ethics board of the Ministry of Health of Saudi Arabia issued approval H-02-K-076-0420-286. Animal subjects: All authors have confirmed that this study did not involve animal subjects or tissue. Conflicts of interest: In compliance with the ICMJE uniform disclosure form, all authors declare the following: Payment/services info: All authors have declared that no financial support was received from any organization for the submitted work. Financial relationships: All authors have declared that they have no financial relationships at present or within the previous three years with any organizations that might have an interest in the submitted work. Other relationships: All authors have declared that there are no other relationships or activities that could appear to have influenced the submitted work.
References
For, Control, Information for clinicians on investigational therapeutics for patients with COVID-19