Retrospective 80 hospitalized severe COVID-19 patients in Turkey, showing no significant difference with HCQ treatment in unadjusted results. All patients received favipiravir.Although the 17% lower mortality is not statistically significant, it is consistent with the significant 24% lower mortality
[19‑28%]
from meta analysis of the
244 mortality results to date
. This study is excluded in the after exclusion results of meta analysis: unadjusted results with no group details.
risk of death,

16.7% lower

, RR 0.83, p = 0.50
, treatment 15 of 36 (41.7%), control 22 of 44 (50.0%), NNT 12.
Effect extraction follows pre-specified rules prioritizing more serious outcomes. Submit updates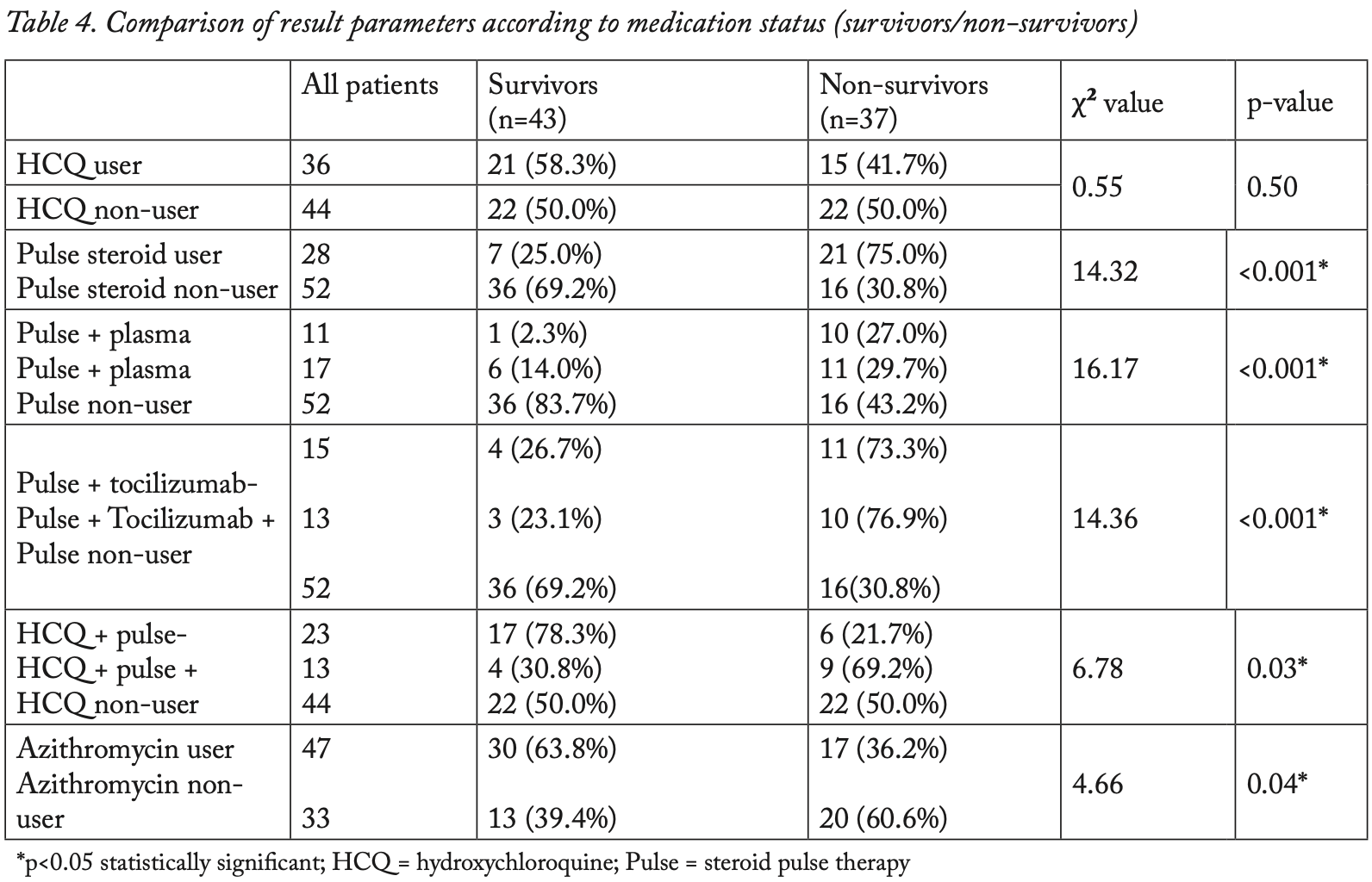 Afşin et al., 1 Aug 2023, retrospective, Turkey, peer-reviewed, 2 authors, study period August 2020 - November 2020.
FACTORS AFFECTING PROGNOSIS AND MORTALITY IN SEVERE COVID-19 PNEUMONIA PATIENTS
doi:10.20471/acc.2023.62.01.13
Fatality rate in coronavirus disease 2019 (COVID-19) cases has been reported to be 3.4% worldwide. The aim of this study was to evaluate the factors that determine prognosis and mortality in severe COVID-19 pneumonia patients. Eighty adult patients with severe COVID-19 pneumonia hospitalized and monitored at Izzet Baysal State Hospital (Bolu, Turkey) between August and November 2020 were included in this retrospective single-center study. Demographic and laboratory data, severity of radiological involvement, comorbidities, agents used in treatment, and clinical results were recorded, and data were grouped as survivors and non-survivors. The mean patient age was 67.8±12.6 years. There were 59 (73.8%) male patients. Comorbid diseases were present in 53 (66.3%) patients. There was no significant relationship between patient age, gender, smoking status or presence of comorbidity and mortality (p>0.05). The variables such as pulmonary involvement above 50%, intubation, or ferritin (>434.8 µg/L), troponin I (>14.05 ng/L) and procalcitonin (>0.125 ng/mL) as the sole variables of laboratory data were found to have significant relationship with increased mortality (p<0.05). Mortality was significantly higher in patients using steroid pulse therapy + tocilizumab, steroid pulse therapy + hydroxychloroquine, or solely steroid pulse therapy, while it was significantly lower in patients receiving azithromycin therapy and those in the plasma + steroid pulse therapy group. The severity of pulmonary involvement, intubation, and increase in inflammation markers such as ferritin, troponin and procalcitonin were found to be significantly associated with mortality (p<0.05). Treatment approaches with azithromycin and plasma + steroid pulse therapy were found to reduce mortality.
References
Sažetak, Uzrokovanom, None
Wadman, Couzin-Frankel, Kaiser, Matacic, How does coronavirus kill? Clinicians trace a ferocious rampage through the body, from brain to toes, Science