Chloroquine nasal drops in asymptomatic & mild COVID-19: An exploratory randomized clinical trial
Chloroquine nasal drops in asymptomatic & mild COVID-19: An exploratory randomized clinical trial
,
Indian J. Med. Res., doi:10.4103/ijmr.IJMR_3665_20
,
Small RCT for CQ nasal drops suggesting efficacy in preventing infection, while no significant difference was seen for patients that already had mild COVID-19.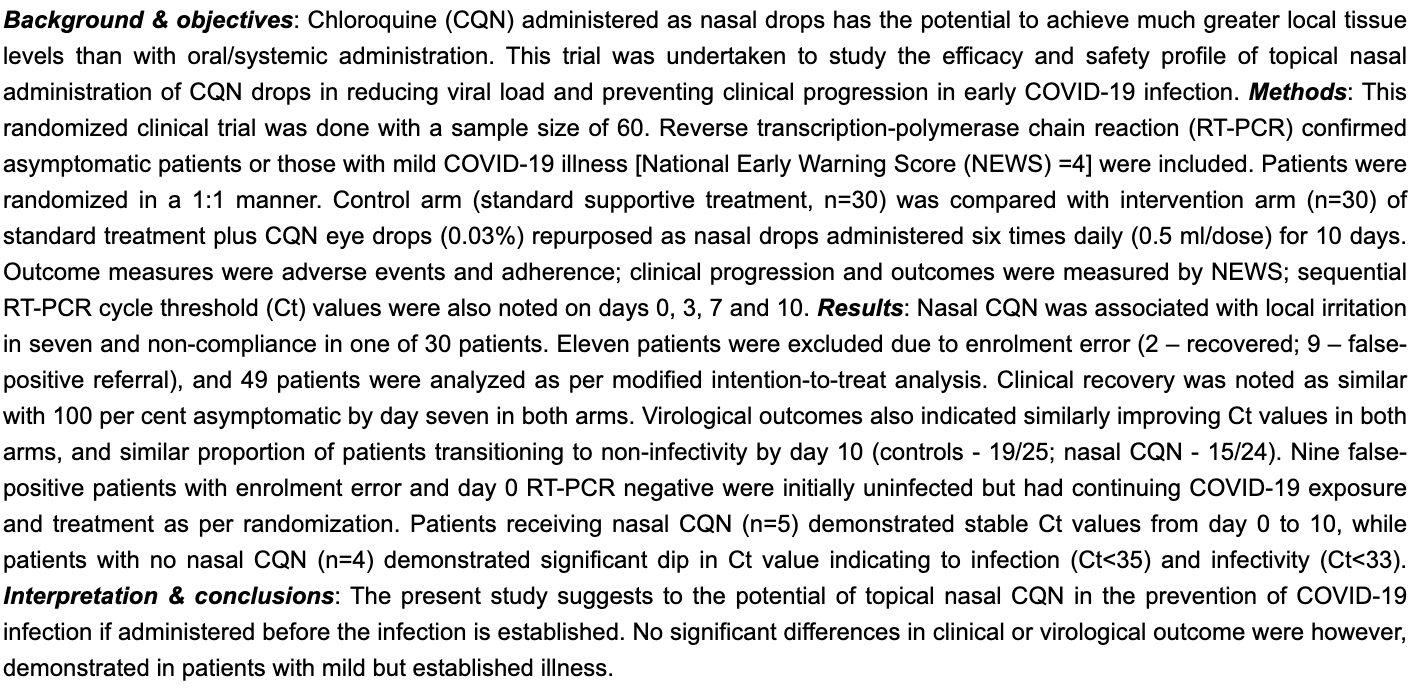 Thakar et al., 28 Feb 2021, peer-reviewed, 11 authors.
Abstract: Indian J Med Res 153, January & February 2021, pp 151-158 DOI: 10.4103/ijmr.IJMR_3665_20 Quick Response Code: Chloroquine nasal drops in asymptomatic & mild COVID-19: An exploratory randomized clinical trial Alok Thakar1, Smriti Panda1, Pirabu Sakthivel1, Megha Brijwal2, Shivram Dhakad2, Avinash Choudekar2, Anupam Kanodia1, Sushma Bhatnagar3, Anant Mohan4, Subir K. Maulik5 & Lalit Dar2 Departments of 1Otorhinolaryngology & Head & Neck Surgery, 2Microbiology, 3Oncoanesthesia, 4Pulmonary Medicine & Sleep Disorders & 5Pharmacology, All India Institute of Medical Sciences, New Delhi, India Received August 28, 2020 Background & objectives: Chloroquine (CQN) administered as nasal drops has the potential to achieve much greater local tissue levels than with oral/systemic administration. This trial was undertaken to study the efficacy and safety profile of topical nasal administration of CQN drops in reducing viral load and preventing clinical progression in early COVID-19 infection. Methods: This randomized clinical trial was done with a sample size of 60. Reverse transcriptionpolymerase chain reaction (RT-PCR) confirmed asymptomatic patients or those with mild COVID-19 illness [National Early Warning Score (NEWS) ≤4] were included. Patients were randomized in a 1:1 manner. Control arm (standard supportive treatment, n=30) was compared with intervention arm (n=30) of standard treatment plus CQN eye drops (0.03%) repurposed as nasal drops administered six times daily (0.5 ml/dose) for 10 days. Outcome measures were adverse events and adherence; clinical progression and outcomes were measured by NEWS; sequential RT-PCR cycle threshold (Ct) values were also noted on days 0, 3, 7 and 10. Results: Nasal CQN was associated with local irritation in seven and non-compliance in one of 30 patients. Eleven patients were excluded due to enrolment error (2 – recovered; 9 – false-positive referral), and 49 patients were analyzed as per modified intention-to-treat analysis. Clinical recovery was noted as similar with 100 per cent asymptomatic by day seven in both arms. Virological outcomes also indicated similarly improving Ct values in both arms, and similar proportion of patients transitioning to non-infectivity by day 10 (controls - 19/25; nasal CQN - 15/24). Nine false-positive patients with enrolment error and day 0 RT-PCR negative were initially uninfected but had continuing COVID-19 exposure and treatment as per randomization. Patients receiving nasal CQN (n=5) demonstrated stable Ct values from day 0 to 10, while patients with no nasal CQN (n=4) demonstrated significant dip in Ct value indicating to infection (Ct<35) and infectivity (Ct<33). Interpretation & conclusions: The present study suggests to the potential of topical nasal CQN in the prevention of COVID-19 infection if administered before the infection is established. No significant differences in clinical or virological outcome were however, demonstrated in patients with mild but established illness. Key words Chloroquine - COVID-19 - nasal drops - National Early Warning Score - prophylaxis - SARS CoV-2 © 2021 Indian Journal of Medical Research, published by Wolters Kluwer - Medknow for Director-General, Indian Council of Medical Research 151 152 INDIAN J MED RES, JANUARY & FEBRUARY 2021 Chloroquine (CQN) and hydroxychloroquine (HCQ) have been demonstrated to have antiviral activity against the coronaviruses and novel coronavirus 2 (SARS-CoV-2) in cell culture and in animal..
Please send us corrections, updates, or comments. Vaccines and treatments are complementary. All practical, effective, and safe means should be used based on risk/benefit analysis. No treatment, vaccine, or intervention is 100% available and effective for all current and future variants. We do not provide medical advice. Before taking any medication, consult a qualified physician who can provide personalized advice and details of risks and benefits based on your medical history and situation.
FLCCC
and
WCH
provide treatment protocols.
Submit