Retrospective 83 hospitalized patients in Turkey confirming that earlier treatment is better, and showing that the addition of AZ to HCQ reduced hospitalization time.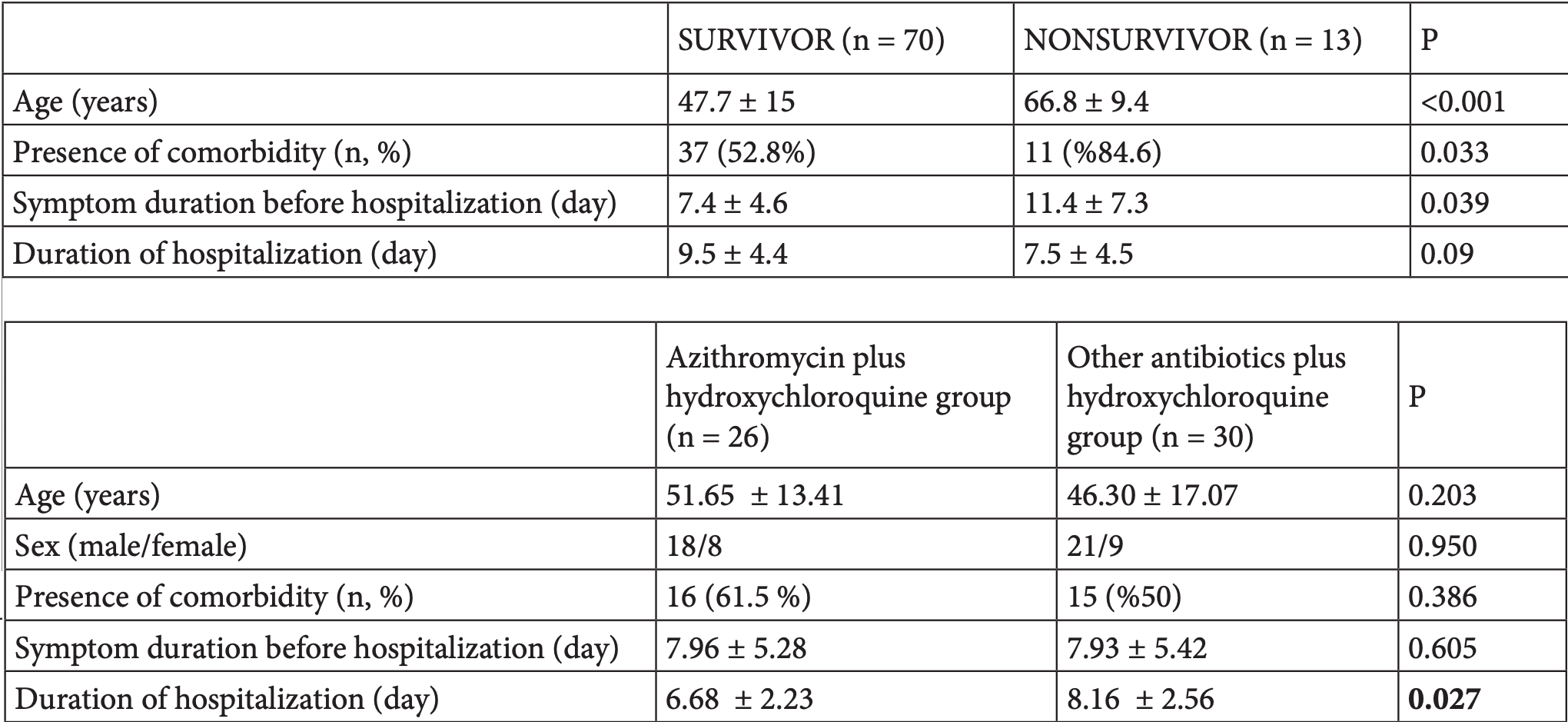 Tanriverdi et al., 26 Feb 2021, peer-reviewed, 8 authors.
Hydroxychloroquine plus azithromycin and early hospital admission are beneficial in COVID-19 patients: Turkish experience with real-life data
TURKISH JOURNAL OF MEDICAL SCIENCES, doi:10.3906/sag-2005-82
Background/aim: New treatment regimens for COVID-19, which has threatened the world recently, continue to be investigated. Although some of the treatments are promising, it is thought to be early to state that there is definitive treatment. Experiences and treatment protocol studies from treatment centers are still important. The aim of this study is to evaluate factors affecting the treatment process of the first cases followed in our clinic. Materials and methods: The consecutive hospitalized patients with COVID-19 pneumonia were analyzed in this retrospective and cross-sectional study. Data were recorded from the electronic and written files of patients. Results: Eighty-three patients were evaluated. The median age was 50 ± 15 years. Forty-eight (57.8%) patients had one or more comorbidities. The most common comorbidity was hypertension. The most common symptom was cough in 58 patients (70%). The overall mortality was 15%, and 85% of the patients were discharged. The time between the onset of symptoms and hospitalization was statistically significantly longer in deceased patients (P = 0.039). Age, D-Dimer, troponin, CK, CK-MB, ferritin, procalcitonin, and neutrophil to lymphocyte ratio were statistically significantly higher in deceased patients than survivor patients. In subgroup analysis, in the patients receiving azithromycin plus hydroxychloroquine and other antibiotics plus hydroxychloroquine, the duration of hospitalization was shorter in the azithromycin group (P = 0.027). Conclusion: Early treatment and early admission to the hospital can be crucial for the better treatment process. Combination therapy with azithromycin may be preferred in the first treatment choice because it can shorten the length of hospital stay.
Each author has participated sufficiently in the work to take public responsibility for appropriate portions of the content. Conflicts of interest The authors do not have any conflict of interest or financial disclosure. No funding was received for the study. The article or the content is not under consideration or has not been published by any other journal. Ethical approval Ethics committee approval was received for this study from Hamidiye Scientific Research Ethics Committee of University of Health Sciences Turkey (2020/3/54). Consent form from patients was not received because of being a retrospective study.
References
Ministry, COVID-19 (SARS-CoV2 Infection) Guide