Propensity matched retrospective prophylaxis study of healthcare workers in the Dominican Republic showing significantly lower cases with treatment, and no hospitalization with treatment (versus 2 in the PSM matched control group). The cases with treatment were mostly in the first week, with only one case in the second and third weeks, and none in the fourth week. There were no severe side effects. In post-hoc analysis, as the treatment group discontinued treatment over time, their protection also decreased.
NCT04832945
(history)
.This is the
49th of 99 COVID-19 controlled studies
for ivermectin, which collectively show efficacy with
p<0.0000000001 (1 in 2 sextillion)
.
46 studies are RCTs
, which show efficacy with
p=0.00000014
.
risk of hospitalization,

80.0% lower

, RR 0.20, p = 0.50
, treatment 0 of 271 (0.0%), control 2 of 271 (0.7%), NNT 136, relative risk is not 0 because of continuity correction due to zero events (with reciprocal of the contrasting arm), PSM.
risk of case,

74.0% lower

, RR 0.26, p = 0.008
, treatment 5 of 271 (1.8%), control 18 of 271 (6.6%), NNT 21, adjusted per study, PSM, multivariate Cox regression, primary outcome.
Effect extraction follows pre-specified rules prioritizing more serious outcomes. Submit updates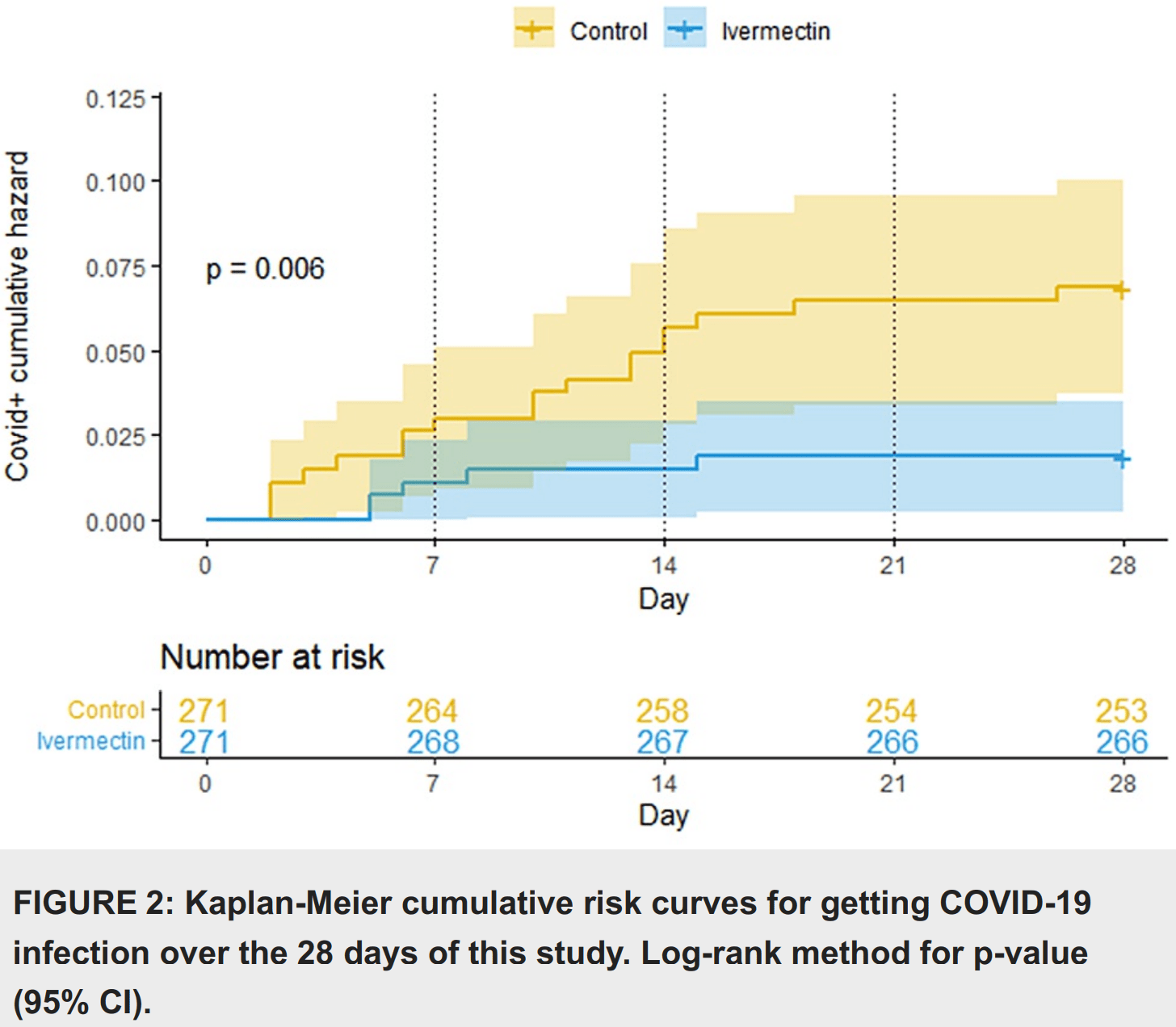 Morgenstern et al., 16 Apr 2021, retrospective, propensity score matching, Dominican Republic, peer-reviewed, 16 authors, dosage 200μg/kg weekly, trial
NCT04832945
(history)
.
Ivermectin as a SARS-CoV-2 Pre-Exposure Prophylaxis Method in Healthcare Workers: A Propensity Score-Matched Retrospective Cohort Study
Cureus, doi:10.7759/cureus.17455
Background: Ivermectin is a drug that has been shown to be active against coronavirus disease 19 (COVID-19) in previous studies. Healthcare personnel are highly exposed to severe acute respiratory syndrome coronavirus 2 (SARS-CoV-2) infection. Therefore, we decided to offer them ivermectin as a pre-exposure prophylaxis (PrEP) method. Purpose: Primary outcome was to measure the number of healthcare workers with symptomatic SARS-CoV-2 infection and a positive reverse transcription polymerase chain reaction (RT-PCR) COVID-19 test in the ivermectin group and in the control group. Secondary outcome was to measure the number of sick healthcare workers with a positive RT-PCR COVID-19 test whose condition deteriorated and required hospitalization and/or an Intensive Care Unit (ICU), or who died, in the ivermectin group and in the control group. Material and methods: This observational and retrospective cohort study was carried out in two medical centers,
Additional Information Disclosures Human subjects: Consent was obtained or waived by all participants in this study. Grupo Rescue Ethics Committee issued approval ME-GRUR-328-2020. This study was submitted for consideration, comment, guidance and approval to the Grupo Rescue Ethics Committee before the Ivermectin pre-exposure prophylaxis started. . Animal subjects: All authors have confirmed that this study did not involve animal subjects or tissue. Conflicts of interest: In compliance with the ICMJE uniform disclosure form, all authors declare the following: Payment/services info: All authors have declared that no financial support was received from any organization for the submitted work. Financial relationships: All authors have declared that they have no financial relationships at present or within the previous three years with any organizations that might have an interest in the submitted work. Other relationships: All authors have declared that there are no other relationships or activities that could appear to have influenced the submitted work.
References