Retrospective 30,423 patients in France, showing very low mortality overall for outpatients treated with HCQ+AZ and for patients <50, and significantly lower mortality with HCQ and HCQ+AZ versus other treatments. Efficacy was greater for outpatients vs. inpatients.
risk of death,

59.0% lower

, OR 0.41, p = 0.008
, HCQ, outpatients, RR approximated with OR.
risk of death,

71.0% lower

, OR 0.29, p < 0.001
, HCQ+AZ, outpatients, RR approximated with OR.
risk of death,

41.0% lower

, OR 0.59, p < 0.001
, HCQ, inpatients, RR approximated with OR.
risk of death,

45.0% lower

, OR 0.55, p < 0.001
, HCQ+AZ, inpatients, RR approximated with OR.
Effect extraction follows pre-specified rules prioritizing more serious outcomes. Submit updates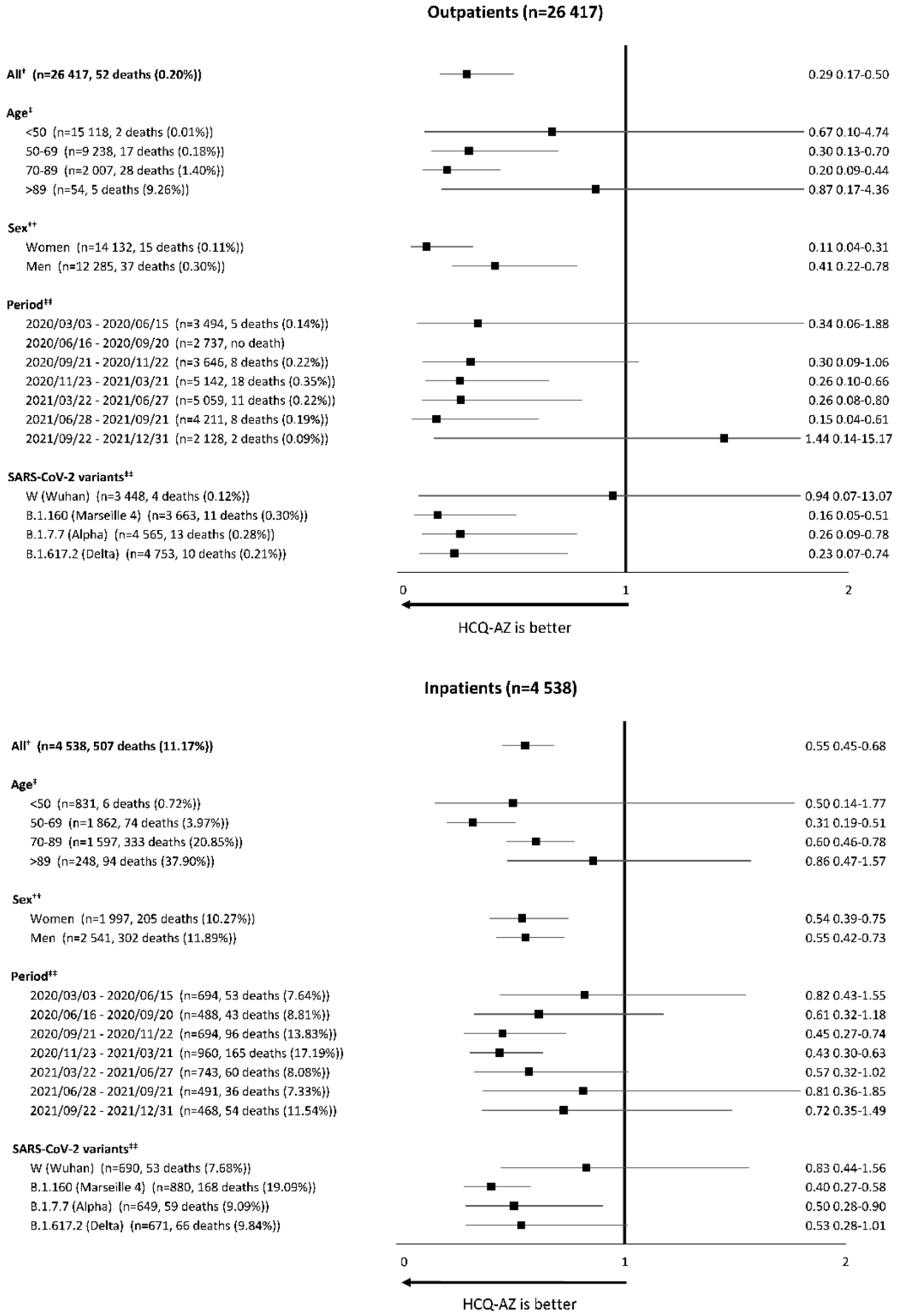 Million et al., 4 Apr 2023, retrospective, France, preprint, 17 authors, study period 2 March, 2020 - 31 December, 2021.
Contact: matthieumillion@gmail.com.
Early Treatment with Hydroxychloroquine and Azithromycin: A Real-Life Monocentric Retrospective Cohort Study of 30,423 COVID-19 Patients
doi:10.1101/2023.04.03.23287649
Objective To estimate the comparative effectiveness of combination therapy with hydroxychloroquine (HCQ) and azithromycin for coronavirus disease 2019 (COVID-19)related death based on a large monocentric cohort independent of investigators' putative biases in a real-world setting. Design Retrospective monocentric cohort study, with comprehensive data collection authenticated by an external bailiff and death reports from a national database (French National Death Registry).
Conflicts of interest All authors have completed the Unified Competing Interest form (available on request from the corresponding author). DR declare grants or contracts and royalties or licenses from Hitachi High-Technologies Corporation, Tokyo, Japan. DR is scientific board member of Eurofins company. DR is founder and shareholder of a microbial culture company (Culture Top), two biotechnology companies (Techno-jouvence, and Gene and Green TK), and a rapid diagnosis of infectious diseases company (Pocramé). All authors declare: no support from any organisation for the submitted work; no financial relationships with any organisations that might have an interest in the submitted work in the previous three years, no other relationships or activities that could appear to have influenced the submitted work. Our group used widely available generic drugs distributed by many pharmaceutical companies. Details of contributors .
References
Anderson, Bijlmer, Fournier, Diagnosis and management of Q fever--United States, 2013: recommendations from CDC and the Q Fever Working Group, MMWR Recomm Rep
Godlee, Open letter to Roche about oseltamivir trial data, BMJ
Hill, The Environment and Disease: Association or Causation ?, Proc Royal Soc Med
Huang, Li, Xiao, Preliminary evidence from a multicenter prospective observational study of the safety and efficacy of chloroquine for the treatment of COVID-19
Lagier, Million, Cortaredona, Outcomes of
Mehra, Desai, Ruschitzka, Patel, RETRACTED: Hydroxychloroquine or chloroquine with or without a macrolide for treatment of COVID-19: a multinational registry analysis
Rosengren, Soderberg, Lundberg, COVID-19 in people aged
Who, Coronavirus disease (COVID-19): Solidarity Trial and hydroxychloroquine