Analysis of COVID-19 cases vs. widespread prophylactic use of ivermectin for parasitic infections showing significantly lower incidence of COVID-19 cases.This is the
22nd of 99 COVID-19 controlled studies
for ivermectin, which collectively show efficacy with
p<0.0000000001 (1 in 2 sextillion)
.
46 studies are RCTs
, which show efficacy with
p=0.00000014
.
This study is excluded in the after exclusion results of meta analysis: not a typical trial, analysis of African countries that used or did not use ivermectin prophylaxis for parasitic infections.
risk of case,

78.0% lower

, RR 0.22, p < 0.02
, African countries, PCTI vs. no PCT, relative cases per capita.
risk of case,

80.0% lower

, RR 0.20, p < 0.001
, worldwide, PCTI vs. no PCT, relative cases per capita.
Effect extraction follows pre-specified rules prioritizing more serious outcomes. Submit updates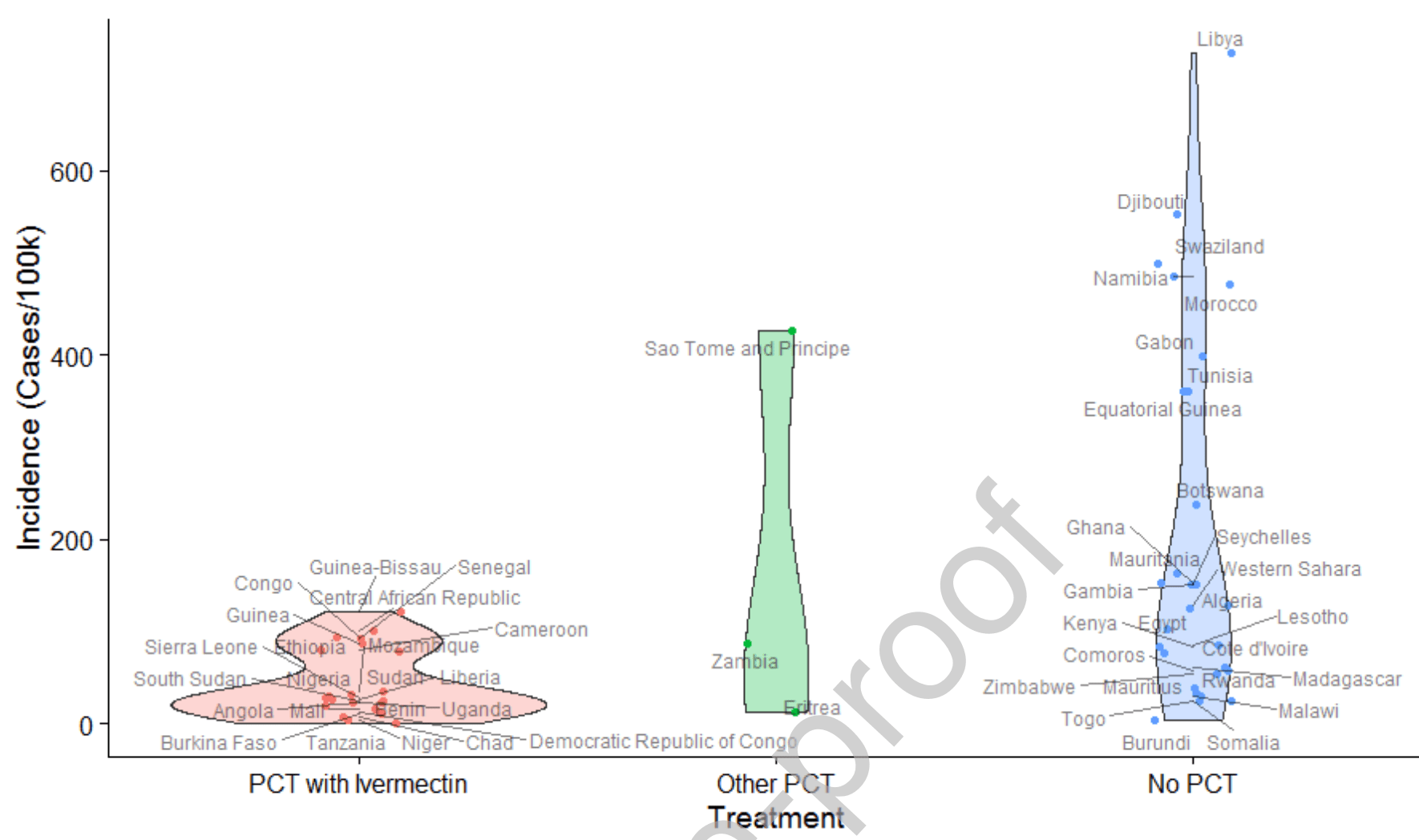 Hellwig et al., 28 Nov 2020, retrospective, ecological study, multiple countries, peer-reviewed, 2 authors, dosage 200μg/kg, dose varied, typically 150-200μg/kg.
A COVID-19 prophylaxis? Lower incidence associated with prophylactic administration of ivermectin
International Journal of Antimicrobial Agents, doi:10.1016/j.ijantimicag.2020.106248
Since January 2020 Elsevier has created a COVID-19 resource centre with free information in English and Mandarin on the novel coronavirus COVID-19. The COVID-19 resource centre is hosted on Elsevier Connect, the company's public news and information website. Elsevier hereby grants permission to make all its COVID-19-related research that is available on the COVID-19 resource centre -including this research content -immediately available in PubMed Central and other publicly funded repositories, such as the WHO COVID database with rights for unrestricted research re-use and analyses in any form or by any means with acknowledgement of the original source. These permissions are granted for free by Elsevier for as long as the COVID-19 resource centre remains active.
Supplementary materials Supplementary material associated with this article can be found, in the online version, at doi:10.1016/j.ijantimicag.2020. 106248 .
References