Safety of hydroxychloroquine in healthcare workers for COVID-19 prophylaxis
Retrospective 1303 health care workers finding that HCQ prophylaxis was well tolerated. 20% reported an adverse event, mostly gastrointestinal. 1.5% received treatment for adverse effects, with none requiring hospitalization.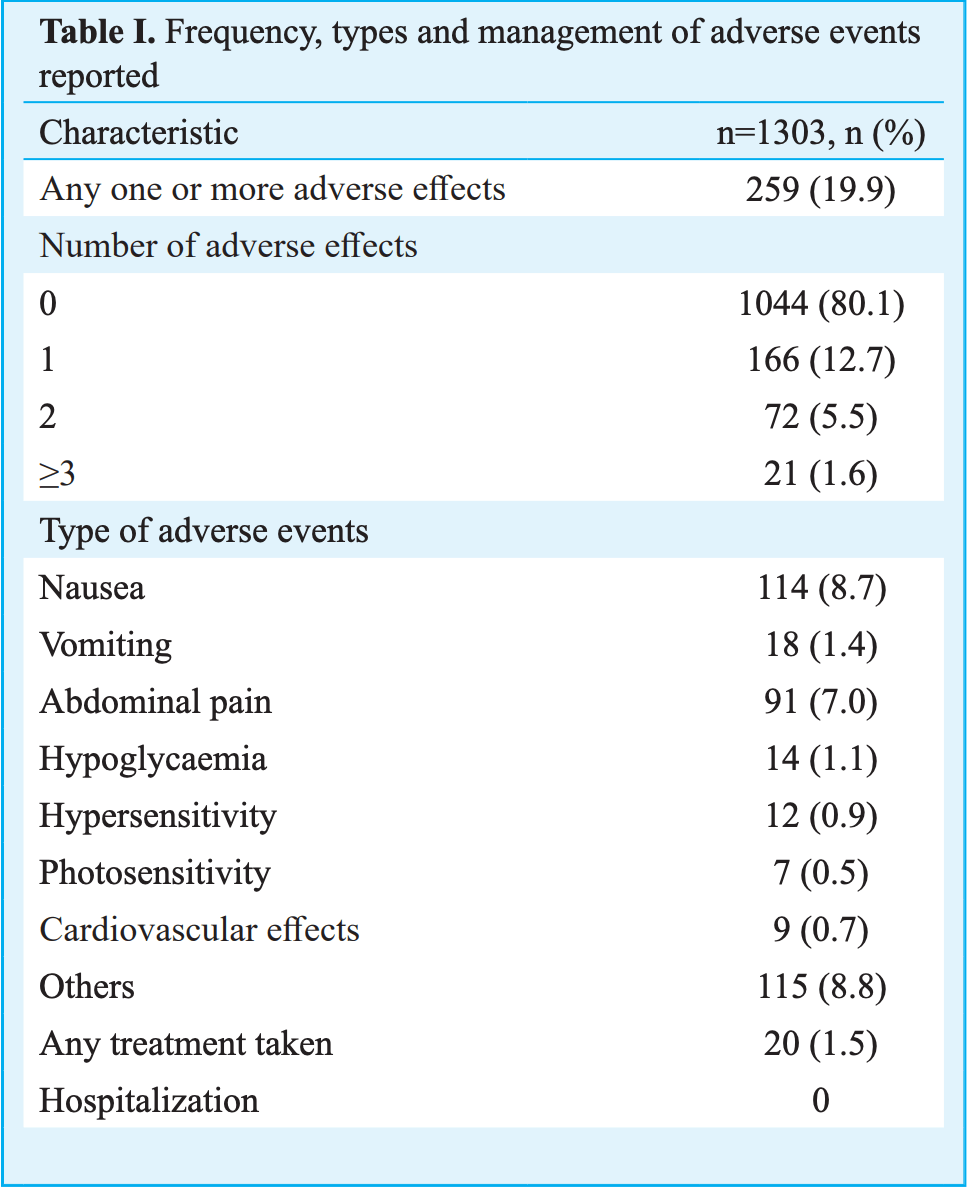 Faruqui et al., 26 Mar 2021, peer-reviewed, 24 authors.
Abstract: Indian J Med Res 153, January & February 2021, pp 219-226 DOI: 10.4103/ijmr.IJMR_2294_20 Quick Response Code: Programme Safety of hydroxychloroquine in healthcare workers for COVID-19 prophylaxis Atiya R. Faruqui1, Denis Xavier1, Sandhya K. Kamat3, Sujith J. Chandy4, Bikash Medhi5, Raakhi K. Tripathi3, Yashashri C. Shetty3, John Michael Raj2, Sandeep Kaushal6, S. Balakrishnan8, Shubham Atal8, Santanu K. Tripathi9, Dinesh K. Badyal7, Harihar Dikshit11, Sukalyan Saha Roy11, Niyati Trivedi12, Suparna Chatterjee10, Chetna Desai13, C.D. Tripathi14, Nirmala N. Rege3, Pooja Gupta15, R. Raveendran18, Rajni Kaul16 & Nilima A. Kshirsagar17 Departments of 1Pharmacology & 2Biostatistics, St. John's Medical College, Bengaluru, Karnataka, Departments of 3Pharmacology & Therapeutics, Seth Gordhandas Sunderdas Medical College & King Edwards Medical Hospital, Mumbai, Maharashtra, 4Department of Pharmacology & Clinical Pharmacology, Christian Medical College, Vellore, Tamil Nadu, 5Department of Pharmacology, Postgraduate Institute of Medical Education & Research, Chandigarh, 6Department of Pharmacology, Dayanand Medical College & Hospital, Ludhiana, 7 Department of Pharmacology, Christian Medical College, Ludhiana, Punjab, 8Department of Pharmacology, All India Institute of Medical Sciences, Bhopal, Madhya Pradesh, 9Department of Clinical & Experimental Pharmacology, School of Tropical Medicine, 10Department of Pharmacology, Institute of Postgraduate Medical Education & Research, Kolkata, West Bengal, 11Department of Pharmacology, Indira Gandhi Institute of Medical Science, Patna, Bihar, 12Department of Pharmacology, Medical College Baroda, Vadodara, 13Department of Pharmacology, B.J. Medical College, Ahmedabad, Gujarat, Department of Pharmacology, 14Vardhman Mahavir Medical College & Safdarjung Hospital, 15All India Institute of Medical Sciences, 16Division of Basic Medical Sciences, 17National Chair Clinical Pharmacology, Indian Council for Medical Research, New Delhi & 18 Department of Pharmacology, Jawaharlal Institute of Postgraduate Education & Research, Puducherry, India Received May 30, 2020 Background & objectives: Hydroxychloroquine (HCQ), reported to inhibit severe acute respiratory syndrome coronavirus 2 (SARS-CoV-2) replication in in vitro studies, has been recommended for prophylaxis of COVID-19 in healthcare workers (HCWs). The objective of this study was to assess short-term adverse events (AEs) of HCQ in HCWs. Methods: This cross-sectional study among consenting HCWs taking prophylaxis and working in hospitals with COVID-19 patients used online forms to collect details of HCWs, comorbidities, prophylactic drugs used and AEs after the first dose of HCQ. Verification of dose and AEs was done by personal contact. Multivariate logistic regression analysis was done to determine the effect of age, gender and dose of HCQ on AE. Results: Of the 1303 HCWs included, 98.4 per cent (n=1282) took HCQ and 66 per cent (n=861) took 800 mg as first day's dose. Among the 19.9 per cent (n=259) reporting AEs, 1.5 per cent (n=20) took treatment for AE, none were hospitalized and three discontinued HCQ. Gastrointestinal AEs were the most common (172, 13.2%), with less in older [odds ratio (OR) 0.56, 95% confidence interval (CI) 0.35- 220 INDIAN J MED RES, JANUARY & FEBRUARY 2021 0.89], with more in females (OR 2.46, 95% CI 1.78-3.38) and in those taking a total dose of 800 mg on day one compared to a lower dose. Hypoglycaemia (1.1%, n=14), cardiovascular..
Please send us corrections, updates, or comments. Vaccines and treatments are complementary. All practical, effective, and safe means should be used based on risk/benefit analysis. No treatment, vaccine, or intervention is 100% available and effective for all current and future variants. We do not provide medical advice. Before taking any medication, consult a qualified physician who can provide personalized advice and details of risks and benefits based on your medical history and situation.
FLCCC
and
WCH
provide treatment protocols.
Submit