Zinc sulfate in combination with a zinc ionophore may improve outcomes in hospitalized COVID-19 patients
et al., J. Med. Microbiol., Sep 15, 2020, doi: 10.1099/jmm.0.001250 (date from earlier preprint)
Zinc sulfate in combination with a zinc ionophore may improve outcomes in hospitalized COVID-19 patients
,
J. Med. Microbiol., Sep 15, 2020, doi: 10.1099/jmm.0.001250 (date from earlier preprint)
,
Retrospective 932 patients showing that the addition of zinc to HCQ+AZ reduced mortality / transfer to hospice, ICU admission, and the need for ventilation.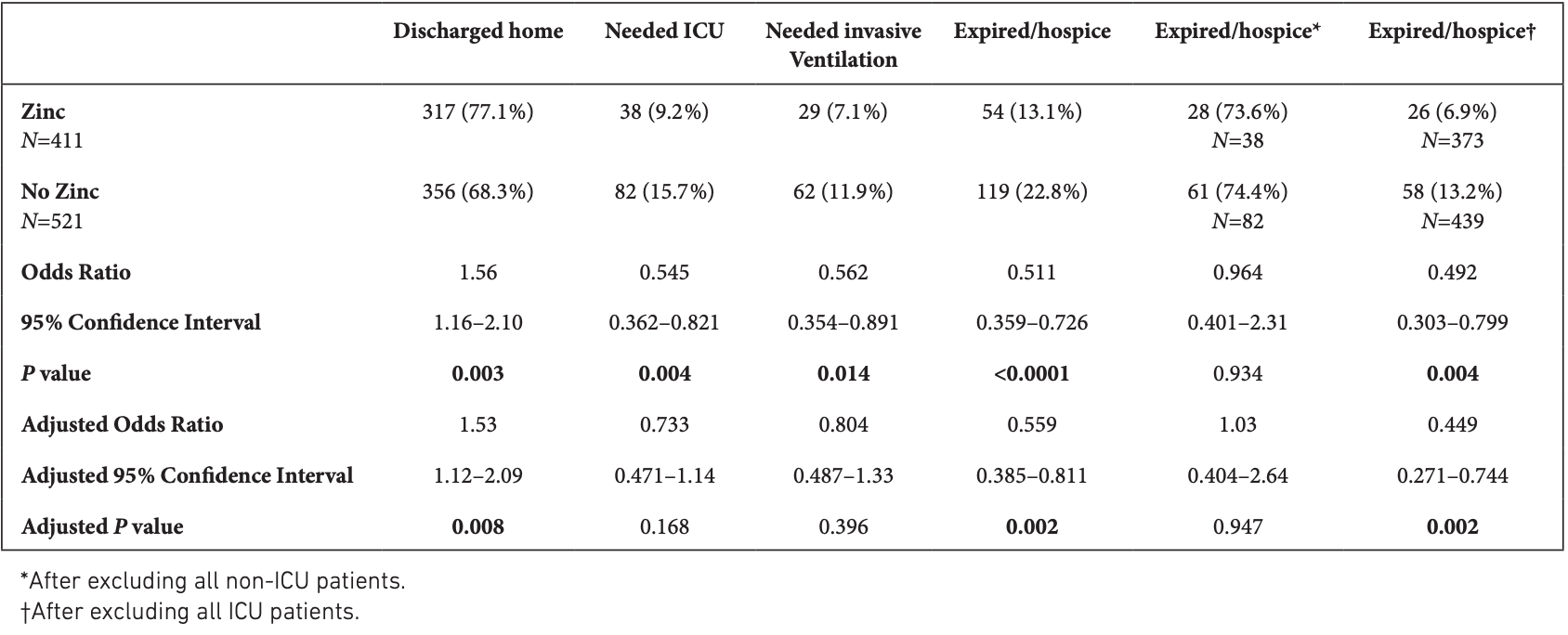 Carlucci et al., 8 May 2020, peer-reviewed, 6 authors.
Abstract: SHORT COMMUNICATION Carlucci et al., Journal of Medical Microbiology 2020;69:1228–1234 DOI 10.1099/jmm.0.001250 OPEN ACCESS Zinc sulfate in combination with a zinc ionophore may improve outcomes in hospitalized COVID-19 patients Philip M. Carlucci1, Tania Ahuja2, Christopher Petrilli1,3, Harish Rajagopalan3, Simon Jones4,5 and Joseph Rahimian1,* Abstract Introduction. COVID-19 has rapidly emerged as a pandemic infection that has caused significant mortality and economic losses. Potential therapies and prophylaxis against COVID-19 are urgently needed to combat this novel infection. As a result of in vitro evidence suggesting zinc sulphate may be efficacious against COVID-19, our hospitals began using zinc sulphate as add-­on therapy to hydroxychloroquine and azithromycin. Aim. To compare outcomes among hospitalized COVID-19 patients ordered to receive hydroxychloroquine and azithromycin plus zinc sulphate versus hydroxychloroquine and azithromycin alone. Methodology. This was a retrospective observational study. Data was collected from medical records for all patients with admission dates ranging from 2 March 2020 through to 11 April 2020. Initial clinical characteristics on presentation, medications given during the hospitalization, and hospital outcomes were recorded. The study included patients admitted to any of four acute care NYU Langone Health Hospitals in New York City. Patients included were admitted to the hospital with at least one positive COVID-19 test and had completed their hospitalization. Patients were excluded from the study if they were never admitted to the hospital or if there was an order for other investigational therapies for COVID-19. Results. Patients taking zinc sulphate in addition to hydroxychloroquine and azithromycin (n=411) and patients taking hydroxychloroquine and azithromycin alone (n=521) did not differ in age, race, sex, tobacco use or relevant comorbidities. The addition of zinc sulphate did not impact the length of hospitalization, duration of ventilation or intensive care unit (ICU) duration. In univariate analyses, zinc sulphate increased the frequency of patients being discharged home, and decreased the need for ventilation, admission to the ICU and mortality or transfer to hospice for patients who were never admitted to the ICU. After adjusting for the time at which zinc sulphate was added to our protocol, an increased frequency of being discharged home (OR 1.53, 95 % CI 1.12–2.09) and reduction in mortality or transfer to hospice among patients who did not require ICU level of care remained significant (OR 0.449, 95 % CI 0.271–0.744). Conclusion. This study provides the first in vivo evidence that zinc sulphate may play a role in therapeutic management for COVID-19. thought to be efficacious partly based on in vitro activity against SARS-­CoV-2 [3]. However, clinical data in humans has yielded mixed and disappointing results [4–7]. In spite of this, hydroxychloroquine may still have a role at blocking coronavirus replication, when used in combination with zinc, which inhibits coronavirus RNA polymerase activity.
Please send us corrections, updates, or comments. Vaccines and treatments are complementary. All practical, effective, and safe means should be used based on risk/benefit analysis. No treatment, vaccine, or intervention is 100% available and effective for all current and future variants. We do not provide medical advice. Before taking any medication, consult a qualified physician who can provide personalized advice and details of risks and benefits based on your medical history and situation.
FLCCC
and
WCH
provide treatment protocols.
Submit